THE BUDDY PROJECT
This Mental Health Awareness Month, we're shining a light on the Buddy Project, a suicide and self-harm prevention nonprofit created by AExME Council member Gabby Frost. As Gabby says, "1 in 5 people have a mental illness, but 5 in 5 people have mental health. Mental health matters for everyone." Whether you're dealing with a mental health illness or looking to find out how you can stay healthy or support someone who is struggling, read on to learn more about the Buddy Project!
If you're struggling with mental health…
According to Gabby, the best thing you can do is tell a loved one you need help (if you haven't already). There's no shame in going to your friends, family, or whoever you feel most comfortable with for support. "No one should be ashamed to say they're struggling or need help," advises Gabby. "You don't need a mental illness in order to go through hard times. We need to normalize therapy, medication, and other coping mechanisms, techniques, and ways that people manage their mental health."
Other great options, especially if you don't feel comfortable talking to friends or family, are therapy (including teletherapy!) and Crisis Text Line. All you have to do is text BUDDY to 741741 to get connected with a Crisis Counselor.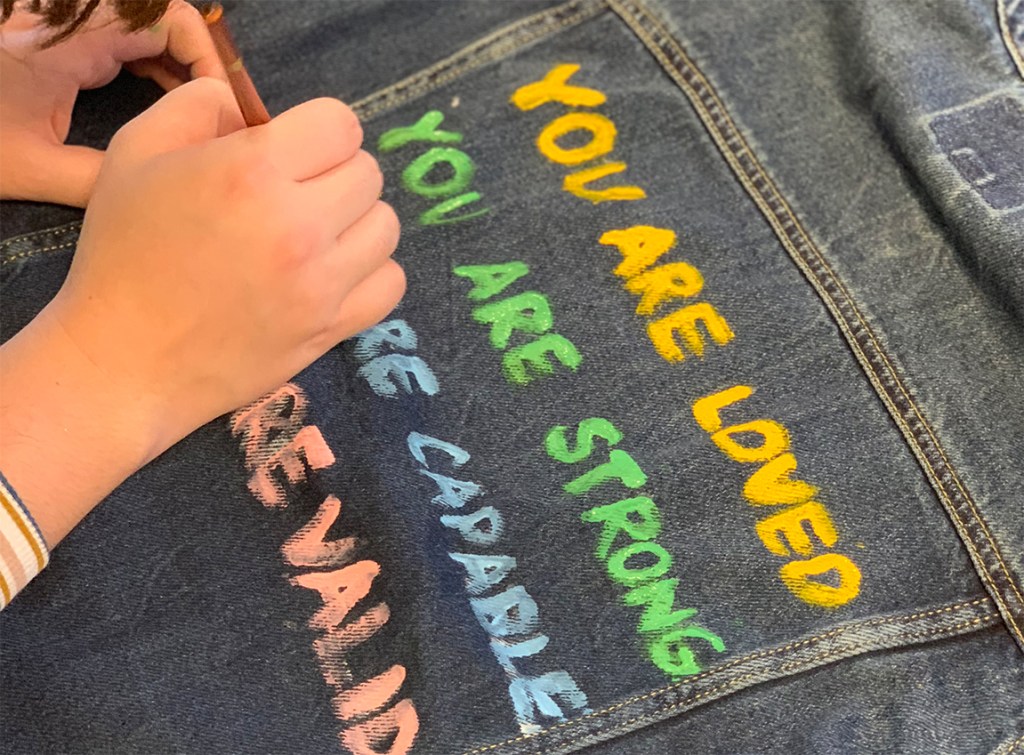 The Buddy Project is about connections.
The Buddy Project's mission is to prevent suicide. But how? The Buddy Project creates a supportive community where people can connect with others who share the same interests. The organization pairs teens and young adults with a buddy – someone to talk to who wants listen and be there for you, as you're there for them. Simple as that. Since April 2013, the Buddy Project has paired nearly 240,000 buddies. Buddy pairings are currently on hold as Gabby and the Buddy Project prepare to launch a new app soon, so make sure you follow the Buddy Project on social media for updates!
It's about creating community where you are.
Gabby started the Buddy Project in 2013 when she discovered that many of her friends were going through mental illness. Her best friend at the time was self-harming and had suicidal ideation, and many connections Gabby had made through social media fan communities for One Direction and Justin Bieber also shared that they were struggling.
Gabby first had the idea to create the Buddy Project on April 8, 2013 in the early hours of the night, when she was scrolling through her Twitter feed because she couldn't sleep. Gabby stumbled upon Tweets from three people she followed who shared that they were thinking of suicide. "I immediately sent them supportive messages and encouraged others to do the same, but I wanted to do more," says Gabby. "I wanted to actually do something instead of waiting for someone else to get an idea and make a change. In that moment, I had the idea to pair together people with a buddy based on their interests and ages, after thinking about my experiences of finding close friends through social media. I wanted to create a community where people could find people just like them, and openly talk about mental health. This simple yet effective idea is what led to the inception of Buddy Project."
What's involved in being a buddy?
Being a buddy just involves wanting a new friend. You don't need to be going through mental illness or even want to help someone going through it, as Buddy Project isn't an alternative to therapy or professional mental health services. It's solely to find new friends who are understanding, empathetic, and kind.
Advice from Buddy Project's Youth Advisory Board
AJ DeLeon: "Life can get pretty tough, things may not go your way, or you might just not be feeling your best. In moments like those, never be afraid to reach out for help. People care and love you more than you may think."
Ana Cecilia Chavez: "Patience, love, and support."
Breeanne DiGiacomo: "I believe education is the key to erasing the stigma of mental illness."