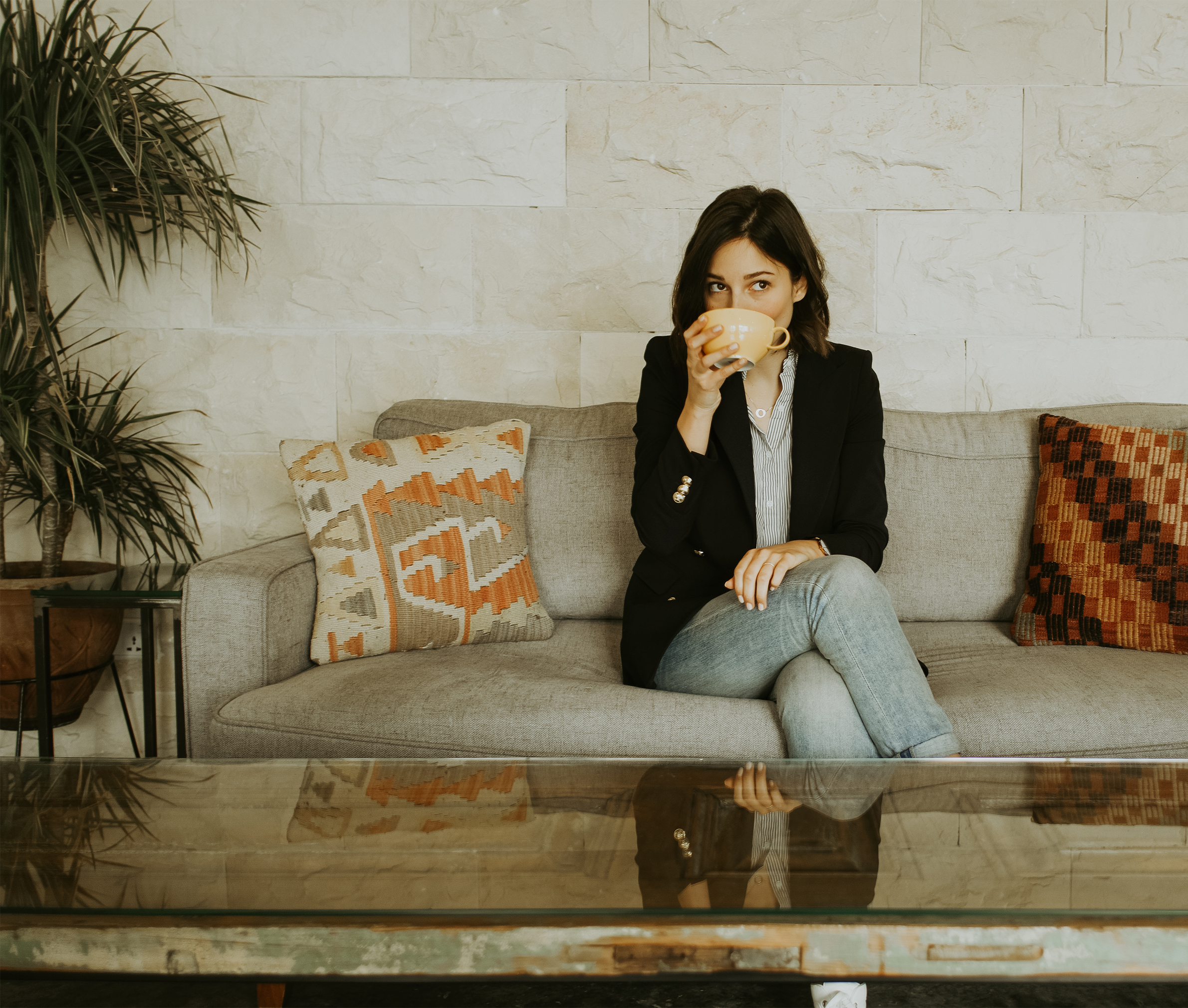 Mental Health Awareness with
Sara Kuburic
The past three-ish months have felt like three years and also like no time at all. If you're like us, you've felt confused, scared, inspired, sad, and mad, maybe all at once. That's why we reached out to Sara Kuburic, the Millennial Therapist, for advice on how to manage mental health.
Sara is an existential psychotherapist, writer, life-coach, and researcher, providing mindful support to her followers and clients on social media and beyond. She strives to help people feel empowered, live freely and authentically, thrive in their relationships, experience healing and change, and uncover purpose in their life.
"Remember, there is no right way to handle this unusual situation," says Sara. "Don't let yourself feel pressured to do or feel a certain way. The most important thing is to find what works for you!"
Keep scrolling for Sara's tips on how you can take care of yourself personally and professionally. Plus, see how she's managing her own mental health during these unfamiliar times.
How to Take Care of Your Mental Health During COVID-19
1. Do daily check-ins (e.g. how am I feeling? What do I need right now?)
2. Let go of unrealistic or imposed expectations
3. Take time to declutter (e.g. toxic relationships, closets, emails)
4. Set and adjust boundaries (e.g. time spent on social media)
5. Find a healthy way to express your emotions (e.g. talking, painting, writing)
6. Do something daily that brings you joy
7. Start a new hobby or project
8. Take care of your body (e.g. nutrition, sleep, movement, comfy clothing)
Advice on Working from Home
• Designate a space that is just for work
• Let go of the expectation that your output will be the same as before
• Take breaks (e.g. walk around, have a snack, chat with a friend)
• Celebrate your daily accomplishments, even the smallest ones
• Set a cut-off time for your work day
• Be gentle with yourself on days that don't feel productive
• Find ways to self-soothe when feeling overwhelmed (e.g. drink tea, listen to music)
How to Deal with Missing Big Milestones
• Identify your feelings (e.g. sad, frustrated)
• Validate your feelings (e.g. "it's normal for me to feel disappointed")
• Find a way to celebrate and honor the milestone
• Try to connect to people who are sharing the same experience
• Don't downplay your loss (e.g. "I shouldn't be complaining," "it's not a big deal")
How are you staying busy or staying connect with friends and family?
Sara: "I started working on some new projects that I am very excited about! Finding purpose during this very uncertain and unusual time can help offset a sense of boredom and powerlessness. I am also trying to learn Korean – which has been a fun new hobby! I am personally not the greatest at staying in touch with people, so I make sure to schedule family and friends in for video chats throughout the week!
How are you relaxing?
Sara: "I do a lot of different things, mostly because I very much appreciate variety. Moving my body by walking or running outside is very important for me. In addition, meditating, doing face masks, writing, baking, chatting with family and friends, and watching Netflix are my current go-to activities for relaxation."
Who are you following on social for entertainment?
Sara: I follow a lot of other therapists. Some of my favorite accounts are: @the.holistic.psychologist, @lizlistens, @createthelove, @nedratawwab. For a laugh, I enjoy @mytherapistsays. I also love @coldplay ­– they've done some fun IG LIVES!