For the fourth year in a row, AE is proud to support the It Gets Better Project by donating 100% of sales of our annual Pride collection to the nonprofit, which uplifts, empowers, and connects LGBTQ+ youth around the world. But inclusivity starts from the inside out, which is why we're taking this opportunity to reflect on what equality, individuality, and a better future mean to us.
We kicked off our series of guest posts about love, acceptance, and how it really DOES get better with our Global Brand President, Chad Kessler. Now Nate Christopher, a retail packing evening shift supervisor in Ottawa, Kansas, is here to share his story of honesty, joy, and finding love by learning to love himself.

NATE

CHRISTOPHER
Retail Packing Evening Shift Supervisor, Ottawa, Kansas
As far back as I can remember, I always knew I was gay, but I repressed it as I went through my childhood and adolescence. I wore a mask hiding who I was for at least 20 years. However, I'm here to say that it does get better.
As a child I found myself interested in music and acting. I joined chorus, select chorus, and even performed in multiple musicals and drama productions. In high school I found the Army JROTC (Junior Reserve Officer's Training Corps) and became interested in the military. My desire to serve was solidified by the events of September 11, 2001 as I was in the first few weeks of my junior year of high school. However, I was afraid that if I were to come out, my chances of earning an Army ROTC scholarship to my university of choice would fall by the wayside. After all, the "Don't Ask, Don't Tell" policy was in effect up until mid-2011.
Even though it was becoming more socially acceptable to be gay, I was petrified of being outed. I am ashamed to admit it, but I severed ties with my childhood best friend for trying to out me to the rest of my high school class. I had a specific agenda: I wanted out of my small hometown and a chance to be the first member of my family to attend college in years – on an academic scholarship no less. I was not going to let anything prevent me from attending St. Bonaventure University while working toward becoming an Army officer.
My high school years passed, and I experienced my first true love with a girl. I earned that scholarship and we broke up because I was going away to college. Soon after my high school graduation, I met my first male partner and began a secret relationship that I somehow managed to keep hidden from all of my closest friends and family for nearly the next 10 years.
I went off to college at St. Bonaventure. I made some great new friends over the years. However, none of them knew what I was hiding. I entered the Army after my college graduation in 2007, still in the closet. I continued to put on a face the whole time I was in the Army. I completed all my initial training and was sent to Fort Riley, Kansas in 2008. My partner and I saw each other a handful of times during my college and years in the Army, but his support for me was unwavering.
I had become a Type 1 diabetic sometime during my deployment to Iraq in 2009. This discovery was devastating – I had lost an astounding 70 pounds due to the condition. I took the time necessary to get my diabetes under control while fighting for several years to remain on active duty. Despite my best efforts, the Army saw fit to release me from honorable service due to my medical condition. I realized during this time that my partner and I were no longer compatible and it would be better for the two of us if we were to end the relationship. The breakup was messy and stressful. We had been together for nearly 10 years and I still was not out, so I didn't exactly have friends to discuss this with, and I found myself alone, unemployed, and searching for a new direction and purpose in life.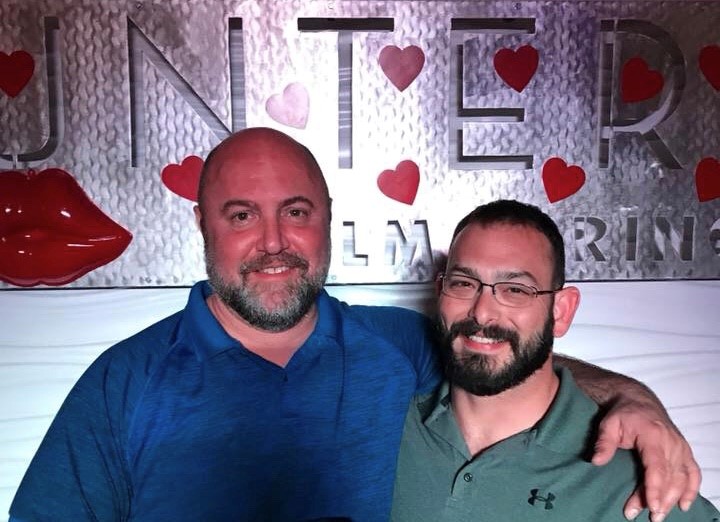 Nate and his partner Steven in 2018. They went on their first date during Nate's first week of working at AE.
This was a very uneasy time for me. All I ever wanted to do was be in the Army from the start of my high school career in 1999. I had a degree in English but I had not really considered what I wanted to do post-military. I had spent a significant part of my time in the Army working with the supply chain and logistics fields and had discovered that I enjoyed that type of work.
I spent the summer of 2012 attending job fairs and traveling all over the country for follow-up interviews with various companies in a number of different industries. I interviewed with two HR representatives from AE in Chicago and they told me about opportunities in both Ottawa, Kansas and Warrendale, Pennsylvania. If you had asked me back then if I had any intentions to remain in Kansas, I would have very clearly stated, "Absolutely not." I had loathed my time in the Manhattan, Kansas area and found myself traveling to the Kansas City metro area for entertainment (I grew up near Buffalo, New York, so I was used to more of a "bigger city" vibe).
The HR reps saw fit to have me come to the AE Ottawa campus distribution center for an on-site interview. As soon as I walked in, my gut told me I was supposed to be here. I immediately fell in love with the warm welcome and cordial interviews I had with the management and HR team. I also developed a fascination for the operational environment. I was fortunate enough to be selected for a position as a Distribution Center Supervisor, and within a few weeks I packed up and headed east to the Ottawa/Lawrence area.
By the end of my first week with AE, I met my partner Steve and we went out on our first date. This fresh start was exactly what I needed to get me to come to terms with my sexuality and to start living my life for me. As my relationship with Steve developed, I became more confident in showing my true self to people around me. I came out to my sister first, and then to most of my co-workers. In January of 2013 I returned home and told my mother and the rest of my family and close friends in person. I was fortunate to have a relatively low-key coming out. Everyone was surprised but supportive. Three months later, my youngest sister came out.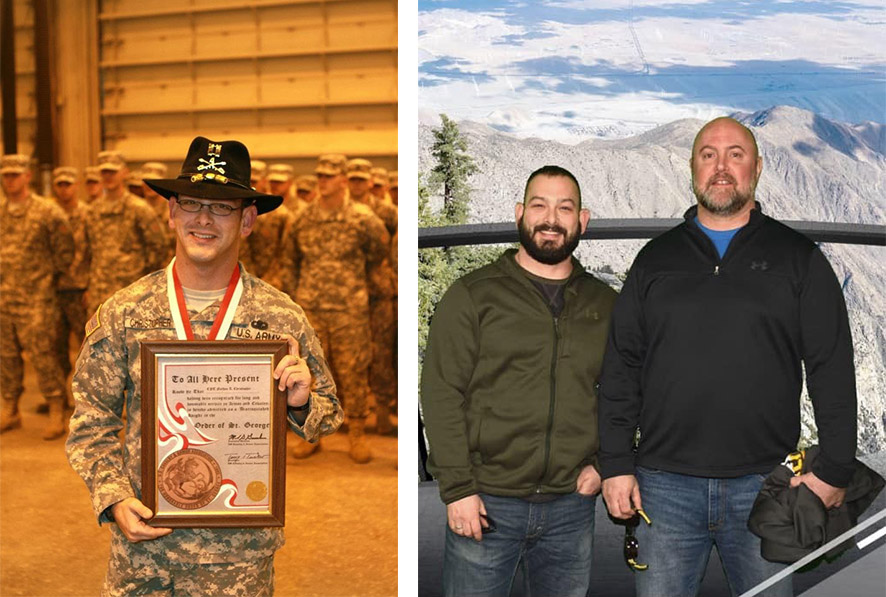 Nate entered the Army in 2007 and bravely served in Iraq in 2009. He's found a post-military career with AE — and love and acceptance with his partner Steve.
I'm a firm believer in fate and that things happen for a reason. I believe that developing diabetes was the best thing that ever happened to me. It set the conditions to end my first professional career (which I loved and secretly hated at the same time because I couldn't be myself); it kept me in Kansas to accept a fantastic opportunity; and it allowed me to meet my significant other at the same time. After living out and proud for nearly the last 7 years, I can honestly say that I have never been happier than I am right now in my life. It is even more rewarding knowing that I work for American Eagle Outfitters. This is such a diverse and accepting professional organization and I'm blessed to be a part of it.
If I could go back and tell my younger self something about it getting better, I would say that there is so much more joy in life that becomes available once you accept yourself and come out. Had I known that I would have been this happy after being honest with myself and the people closest to me, it probably wouldn't have taken me nearly 27 years to do so.

Everyone has a story to tell. What's yours? Share it with #ItGetsBetter @americaneagle to show your support and inspire LGBTQ+ youth around the world!