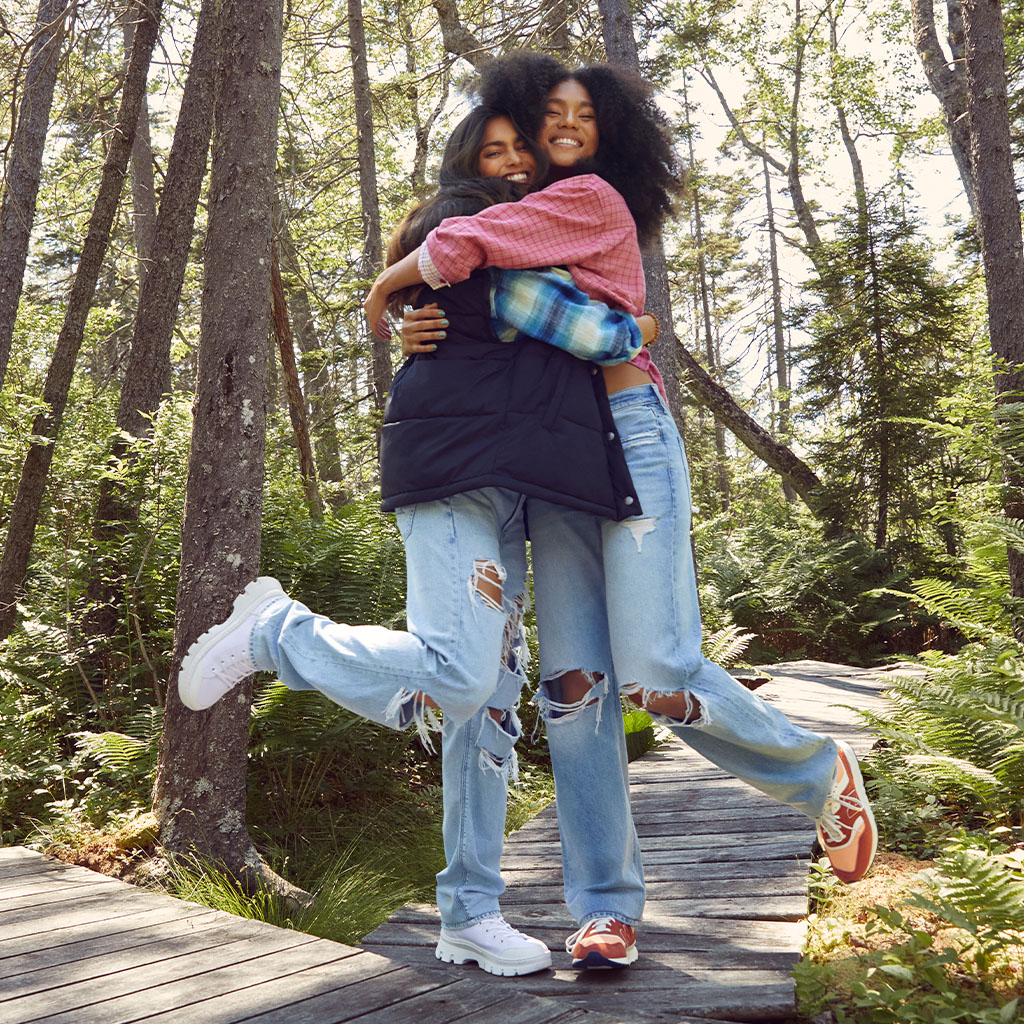 You've got it in the bagy(gy) with new baggy and wide-leg jeans this season. Find out our fave things about these jeans and how to style them!
Baggy Wide-Leg Jeans
A cool, slouchy, wide-leg fit is all you need to rock the baggy jeans trend this year. Our Baggy Wide-Leg Jeans come in high and low-rise styles so you can have the fit you've always wanted, ranging from a lower 10.5" rise to a higher 11.25" rise.
With options from rigid to stretchy to all over, you can have the exact-right denim feel you want. Get an authentic old-school denim feel with non-stretch cotton denim, get a little stretch where it counts with our Comfort Stretch Waistband, or try mid-weight stretch fabric that has juuust enough flex for everyday comfort.
Fit tip: Get that borrowed-from-the-boys look by sizing up one size for a slouchier, relaxed feel. Go up two sizes for a more exaggerated, baggy look.
How to Wear Baggy Wide-Leg Jeans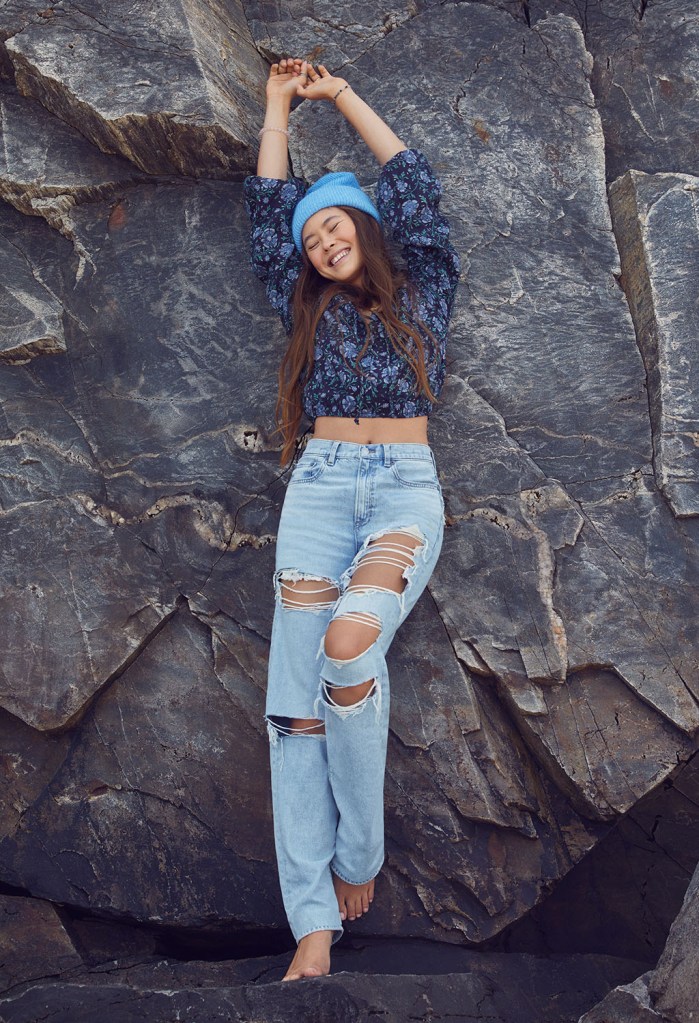 Baggy Wide-Leg Jeans were made for wearing with your favorite layers like graphic tees and flannels, crop tops and denim jackets, and camis and cardigan. Want an even comfier take on the baggy trend? Wear your baggy jeans with a relaxed, oversized sweatshirt made from super-soft fleece.
Style tip: Try a shorter inseam to show off your shoes! Go for boots and booties in the fall, then switch to flats and sneakers in the spring and summer.
Baggy Straight Jeans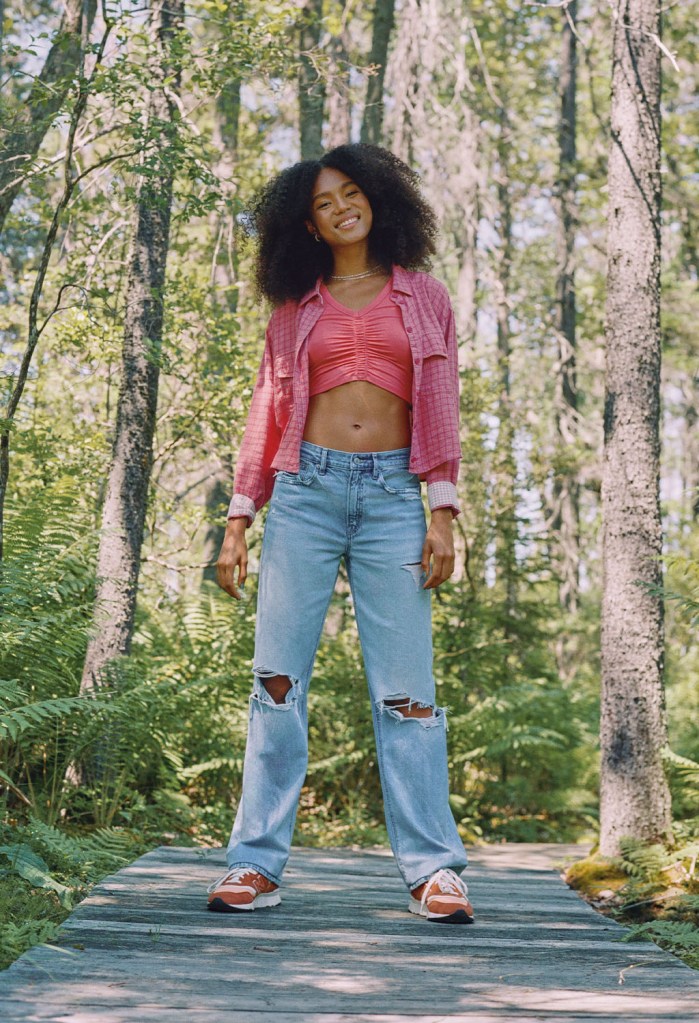 Try a fun, new take on the baggy fit with our Baggy Straight Jeans in a low or high rise. These straight leg jeans are made with a loose, roomy fit and enough extra length to stack at the ankle for an iconic stacked look and feel.
How to Style Baggy Straight Jeans
Try a cinch-front crop top with a flannel and Baggy Straight Jeans for a throwback fit that's effortlessly cool but warm enough for the season. Accentuate the crop in your on-trend top by wearing it with a low-rise jean, then finish the 'fit with fresh sneakers.
Tomgirl Jeans
Love loose, relaxed jeans but not sure about the ultra wide-leg style? Try Tomgirl Jeans, made with a relaxed thigh and cropped, tapered leg. The slouchy 10" rise is meant to sit low on the hips for an easy, low-rise fit you know and love.
What Goes with Tomgirl Jeans
The laid-back look of Tomgirl Jeans goes with allll your go-to tops like oversized band tees, crop tops, and cozy sweaters. Cuff your jeans and wear them with bright white sneakers for an easy look, or pair them with high-tops for a classic '90s-inspired style.
Baggy Joggers
Get comfy vibes from day to night with baggy joggers in soft twill or denim. Made with a high rise, an easy fit through the thigh, and a classic tapered leg, these joggers are relaxed to the max. Go for a cool, casual look by wearing them with hoodies and sweatshirts or dress them up with a polo or button-up shirt.
Show us your fave baggy and wide-leg jean outfits by tagging @americaneagle #AEJeans for a chance to be featured on our Instagram, Twitter, ae.com, and more!