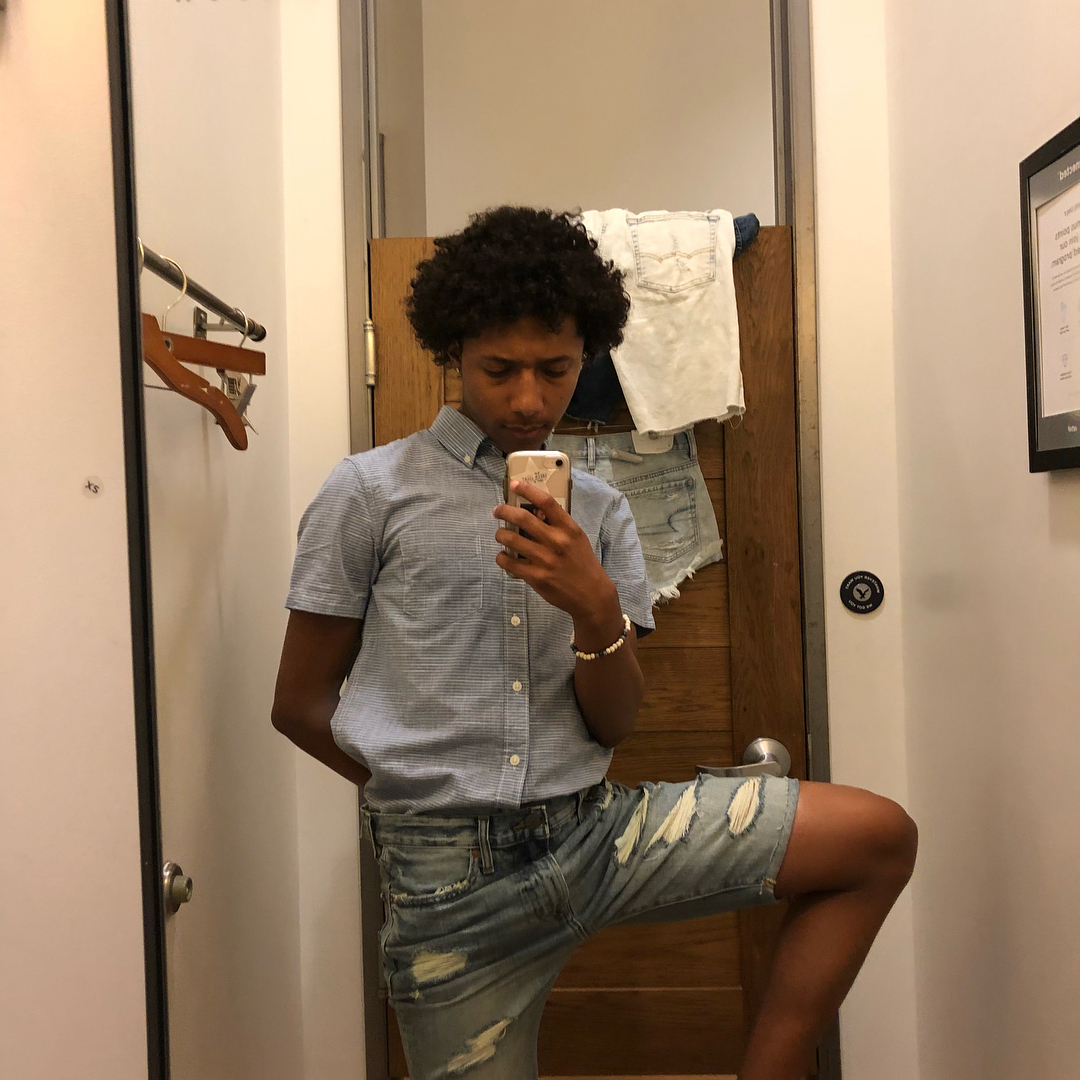 Daevin Reaves is living proof that when you put good energy into the world, you get good energy back. In June he tagged #AEXME in a fitting room selfie, and now he's featured in stores across the country and on the homepage of AE.com. His style radiates positivity and individuality, from the socks he wears to the pictures he posts on Instagram. Learn more about his journey and get inspired to express your style with AExME.
---
Q: What made you decide to submit your photos to AExME? How did it feel when you were chosen to be a part of it?
A: I actually almost DIDN'T send in anything. But I ended up trying on a button up shirt and a pair of shorts, and decided "Eh, why not! Life is short" and I took a few pictures. And I am SOOOO glad I did… when I got the DM from American Eagle I literally flipped out. I said thank you a million times, started dancing and singing and I rushed to tell my parents! It's an indescribable feeling, but I'll never forget it.
Q: What do you want your social media presence to say about you? What do you want to put out into the world through social media?
A: Social media has always been super fun for me, but my main goal on my Instagram (@daevinreaves) is to truly show the world who Daevin is. I want my social media presence to be full of positive energy, just like myself. I want to extend and spread all that positive energy through my pictures and interactions through social media.
Q: How do you express yourself when you're NOT on social media?
A: How do I NOT express myself!!? When not on social media… mostly through clothing. Every single article of clothing I wear has meaning, down to my socks. I haven't worn a pair of "normal" socks since like 8th grade. It's always socks with aliens on them, or donuts, or my favorite Kpop band, or some random object. Even today I'm wearing socks with Belgian waffles on them! I feel like every outfit I wear screams "

DAEVIN

!" or something to that effect.

Q: How would you describe your personal style?
A: My personal style is all about colors, styles, and variety. I really simply wear whatever I think will look good! Today I could go for more of a sporty look, tomorrow may be a preppy look, and the next day an all-denim overalls outfit. My personal style is definitely a reflection of me.
Q: What does it mean to you to be a part of AExME?
A: It means everything and more to be a part of AExME, I am BEYOND grateful and BEYOND thrilled. I don't even know if it really has hit me yet! It's so so so surreal, and it's totally going to hit me soon.