We asked our influencers what they're loving this holiday season. Here's what they had to say about their favorite styles, gifting, and how they like to celebrate the holidays! 
What was your favorite AE item you wore & why?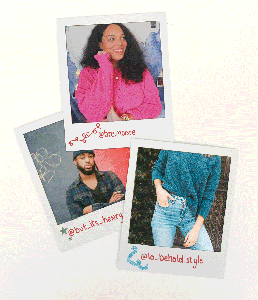 @bre.moore
I truly loved all the pieces, but if I had to choose, no doubt it would be the pink sweater. The color was popping (literally) and the material was so soft! I really appreciate a sweater with thick material that can be a staple piece in your closet during the winter. You can also dress this sweater up with a cute pair of heels, or dress it down with jeans and your cutest sneakers.
@but_its_henry 
My favorite gift is the flannel. It gives off a 90's vibe I love that is soft and comfortable –probably one of the softest flannels out there.
@lo_behold.style
My favorite item I wore was the high-waisted jeggings! I'm a sucker for anything high-waisted and these jeans are extremely comfortable and feel like second skin!

My favorite gift from the delivery was the brown AE hoodie. It was so cozy and just easy to throw on. It just works really well with so many fall situations. Need a hoodie to throw on on your way to the gym? Done. Need a sweatshirt to head to the pumpkin farm? Done. Getting a little chilly at your work desk? Done. Also, it has my initials all over it (:
What is your favorite way to celebrate the holiday season?
@kaleblundie
My favorite way to celebrate the holiday season would have to be sitting by the fire place watching holiday movies with all your favorite snacks! I love watching seasonal movies with my family and friends, but there is something about the holidays that really make it a lot more special!
 @jhoanybarcos
My favorite way to spend the holidays, is spending the day at home with my family while we watch movies in our PJ's and sipping on pumpkin spice lattes.
My favorite way to celebrate the holiday season is to surround myself with family, friends and create lasting memories. Decorating the house, making cookies and taking photos all the while enjoying each other's company.
 @chellaman
My family always gets together and spends a few days just talking for hours on end. This is, by far, my favorite time due to the individuality of each of my family members and the unique stories they bring to the table.
Who would you gift AE products to this holiday?
What would you give & why?
@itskelseydespues
I'd gift my mom this holiday season, specifically with the knit sweater. She's always been a style inspiration to me, letting me wear her clothes and what not when growing up. Gifting her the sweater would not only be a gesture of appreciation for all that she's done for me, but also keeping her cozy and stylish. 
@colton.johnson 
I would probably gift the beanie to one of my friends because I feel like it is both universally useful and stylish. That way you know that they don't have to totally commit to wearing an outfit that doesn't match their style and can instead pair it with something they like. 
 @randalmanago
I would most likely gift my friend a pair of high-waisted jeggings this holiday season because she always loves tucking in her sweaters and shirts. She also says high rise jeans look the best on her.