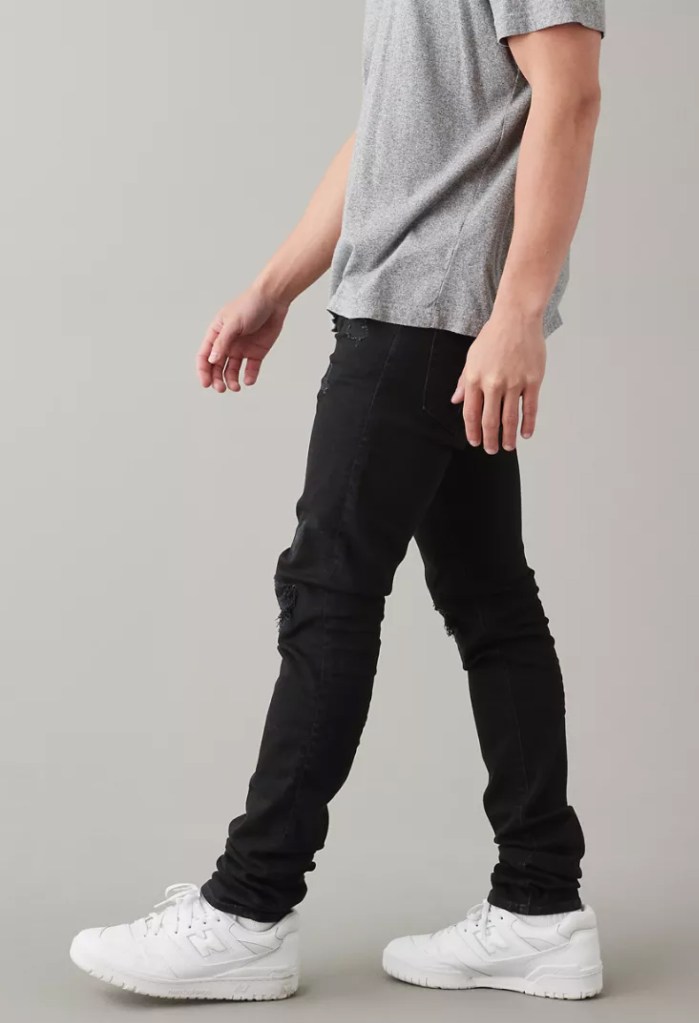 Get the chill street style you've been looking for this year with new stacked jeans, the latest denim trend for both women and men. Learn more about this on-trend fit and check out our favorite ways to wear 'em below!
What Are Stacked Jeans?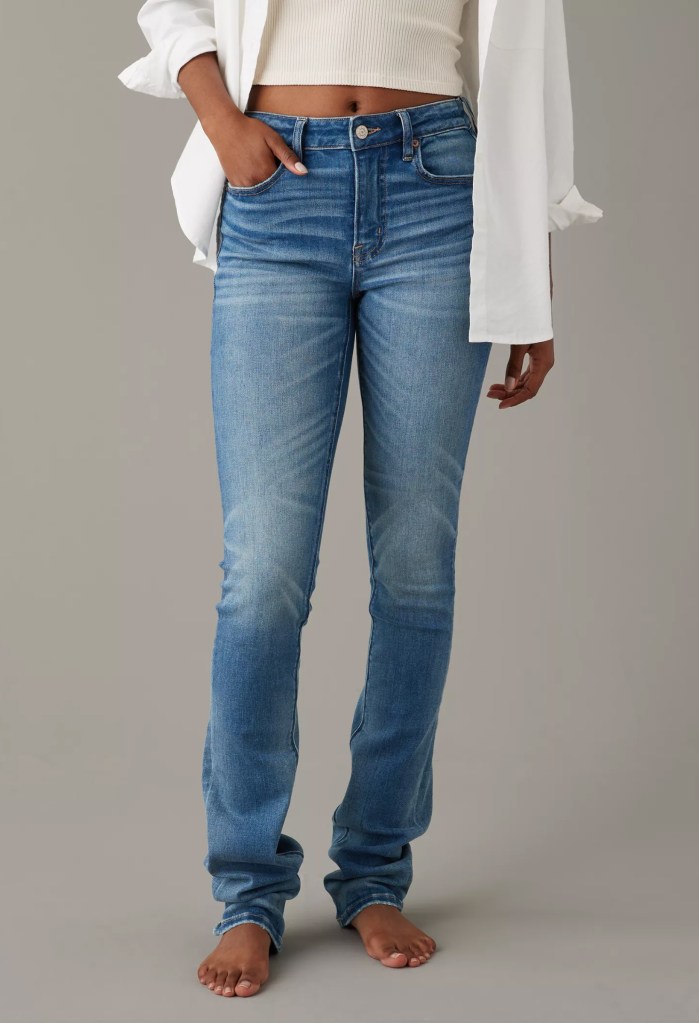 Effortlessly cool and casual, stacked jeans are designed with a slightly longer inseam to create a puddled, stacked look at the ankle. They add a little drama (in the best way possible) to your outfit of the day, and are designed to draw attention down to your shoes. 
AE stacked skinny jeans come in tons of different washes, with or without ripped details, so you have the look you really want. Our men's stacked skinny jeans come in AirFlex stretch fabric made for making moves, and our women's stacked jeans use our softest, stretchiest, never-loses-its-shape Next Level Stretch denim. Choose distressed details like ripped knees and patched holes for more old-school vibes. 
Fit tip: Since stack jeans are designed with a slightly longer inseam, you can order your usual size and still get the trend-forward bunched-up look.
How to Wear Stacked Jeans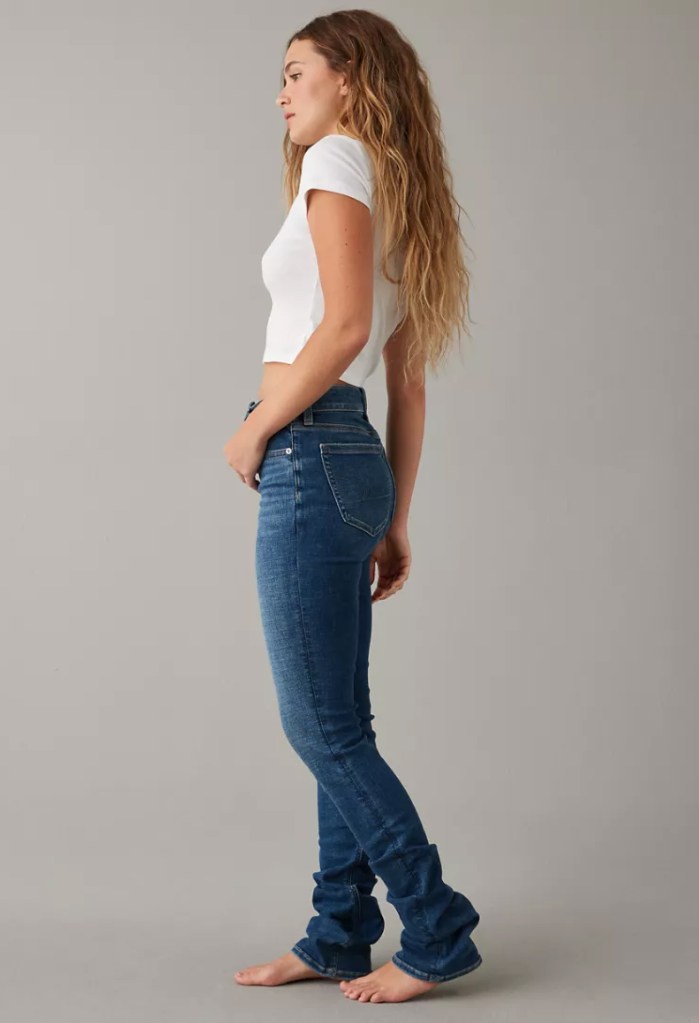 Stacked jeans serve up serious '90s throwback style that makes them an easy, go-to choice for everything from hanging out with friends to exploring the city or going to a concert.
Create a relaxed streetwear vibe by wearing stacked jeans with an oversized t-shirt,  flannel shirt, and cross-body bag, or flex your athletic style by pairing them with a slim-fit polo shirt and a baseball hat. And for girls, there's nothing better than stacked jeans and crop tops when temps rise, then layering up with button-ups and hoodies in the fall. 
Pro top: if you're on the shorter side, don't worry! You can rock the stacked style by cuffing your jeans once or twice to get a similar bunched look.
What Shoes to Wear With Stacked Jeans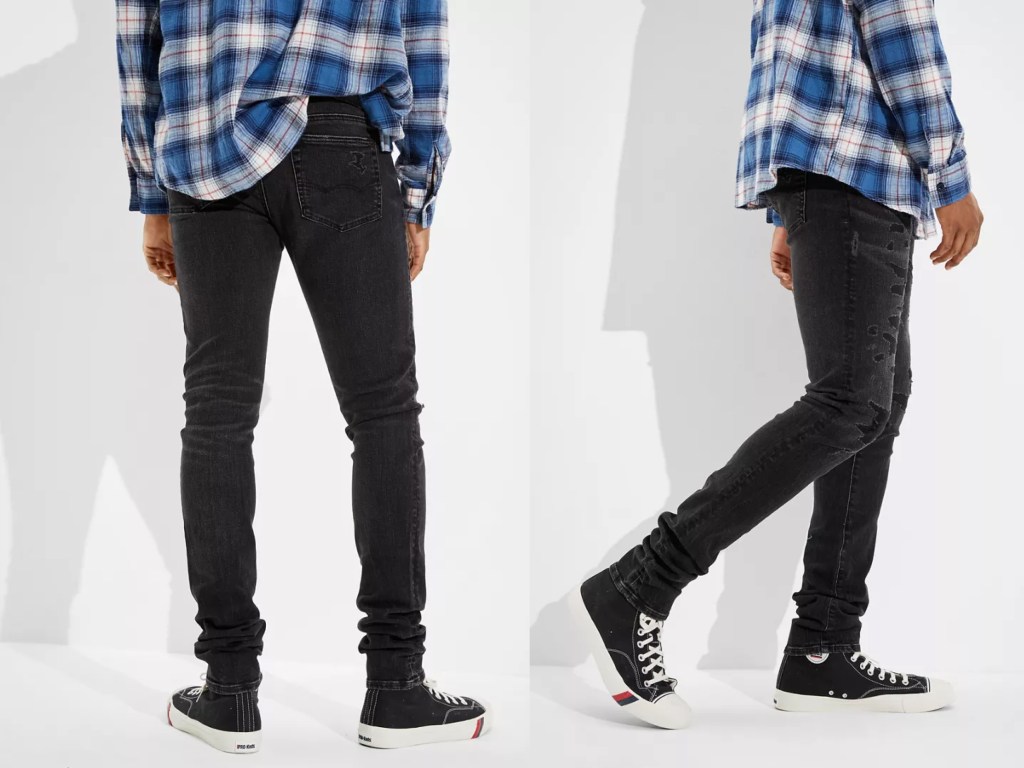 Let those bunches shine by wearing 'em with all your favorite shoes! With a longer inseam that stacks on top of your footwear, these jeans look good with everything from high tops and fresh white sneakers in the spring and summer to Chelsea boots or combat boots in the cooler months.
Show us how you're wearing stacked jeans this year by tagging @americaneagle #AEJeans for a chance to be featured on our Instagram, Twitter, ae.com, and more!