Some call them Hawaiian shirts. Some just call them button-ups. We call them Resort Shirts, and they're our latest faves for sunny days and weekend getaways. Read on to learn why Resort Shirts deserve a spot in your closet – and how to style them!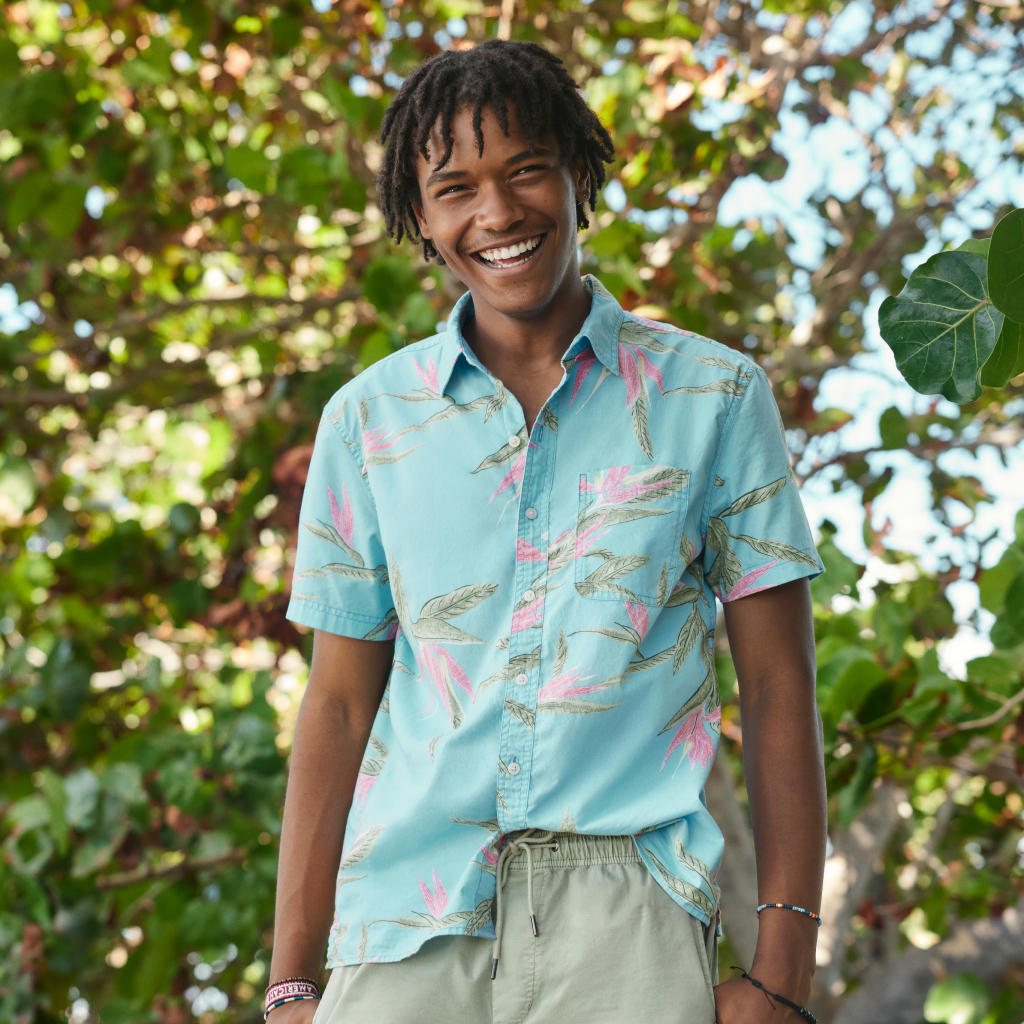 Why Resort Shirts?
With an easy, classic fit and lightweight fabric, Resort Shirts are ideal for any warm weather occasion. Shirts with tropical or floral patterns add a casual, colorful flair to your 'fit – think beach days and cabana vibes. On the other hand, a solid or striped button-up shirt can be dressed up for those "put on something nice" moments. Talk about versatility! 
Ready to add a pop of *collar*? We thought so! Here are some of our fave Resort Shirt 'fits.
Layered Resort Shirt & Jeans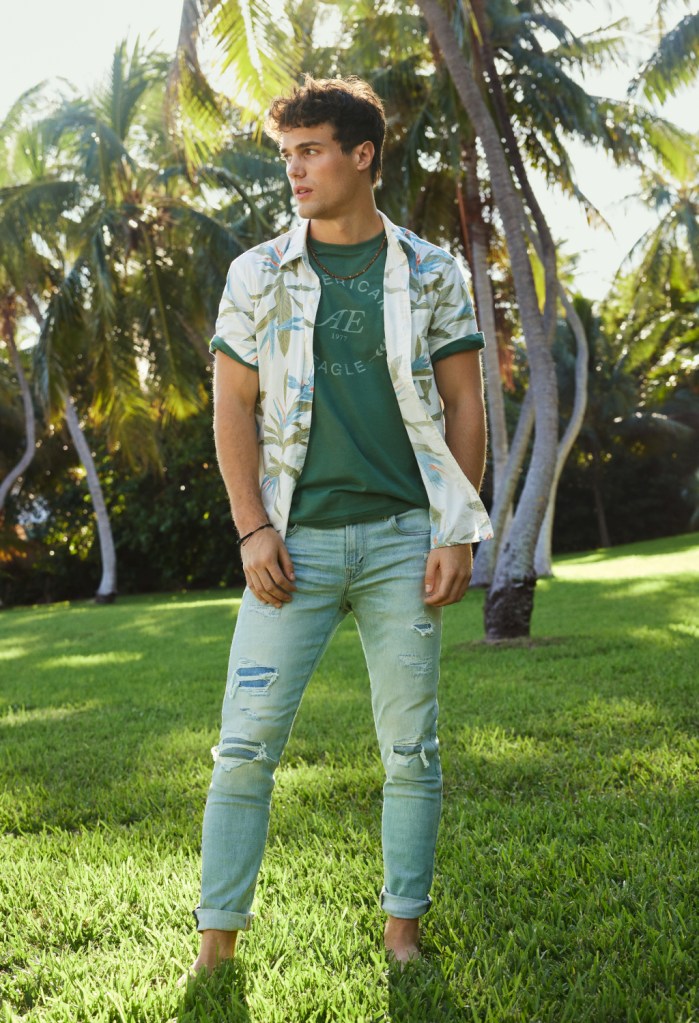 It's easy bein' green! This everyday outfit is giving sunshine, blue skies, and backyard parties. Start with a staple: the oh-so-comfy Super Soft Logo Graphic Tee. Next, layer on your Resort Shirt – leave it open to show off the graphics, and pick a floral pattern that complements the color scheme. 
For the bottoms, we're going with an old favorite: Athletic Skinny Jeans. These jeans have that iconic skinny silhouette you love, but with extra room in the thigh for *maximum* comfiness. The light wash and distressed details add a breezy, casual touch, and Temp Tech denim keeps you cool on hot days.
Style tip: roll up your sleeves a bit for a more fitted look with an extra peak of color!
Button-Up Oxford & Cargo Pants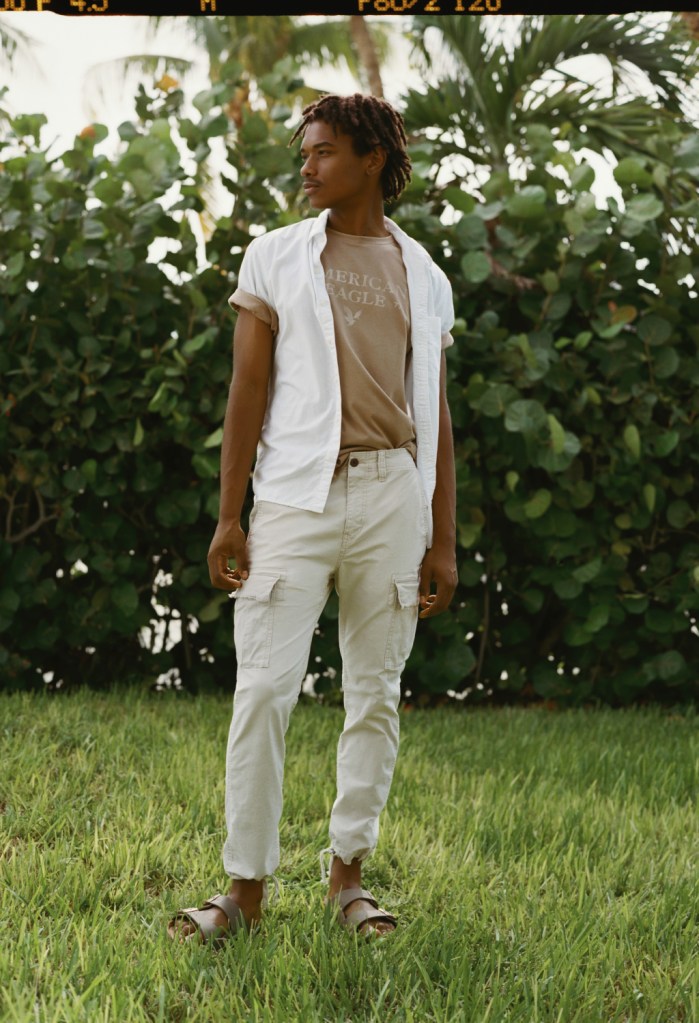 Now entering a neutral zone! Resort Shirts may bring to mind colorful, Hawaiian patterns, but you can rock the button-up look with a simple Short-Sleeve Oxford Shirt. This option gives a clean and simple aesthetic that's super easy to dress up. 
Color-wise, we're keeping it neutral. Layer a white button-up shirt over a graphic tee that's brown, beige, or tan. Then, throw on a pair of light-colored, utility-inspired Cargo Pants. Just add sandals or white sneakers and you're ready to go!
Layered Resort Shirt & Denim Shorts
Woahhh, oh, livin' on a layer! *Clears throat* Catchy hooks aside, we're sticking with the layered look for this casual 'fit. Start with an AE 24/7 Good Vibes Tee for your base layer. The stretchy, lightweight fabric is built to move, and sweat-wicking technology keeps you dry on warmer days. 
Pick a matching color scheme for your tee and Resort Shirt – navy blue, gray, or black will look great paired with dark wash AirFlex+ Denim Shorts. Lastly, add a lighter-colored belt and loosely tuck in the front of your tee. This helps break up your outfit with a subtle pop of color.
Style tip: choose denim shorts that are lightly distressed for a more casual vibe!
Resort Shirt & Trekker Shorts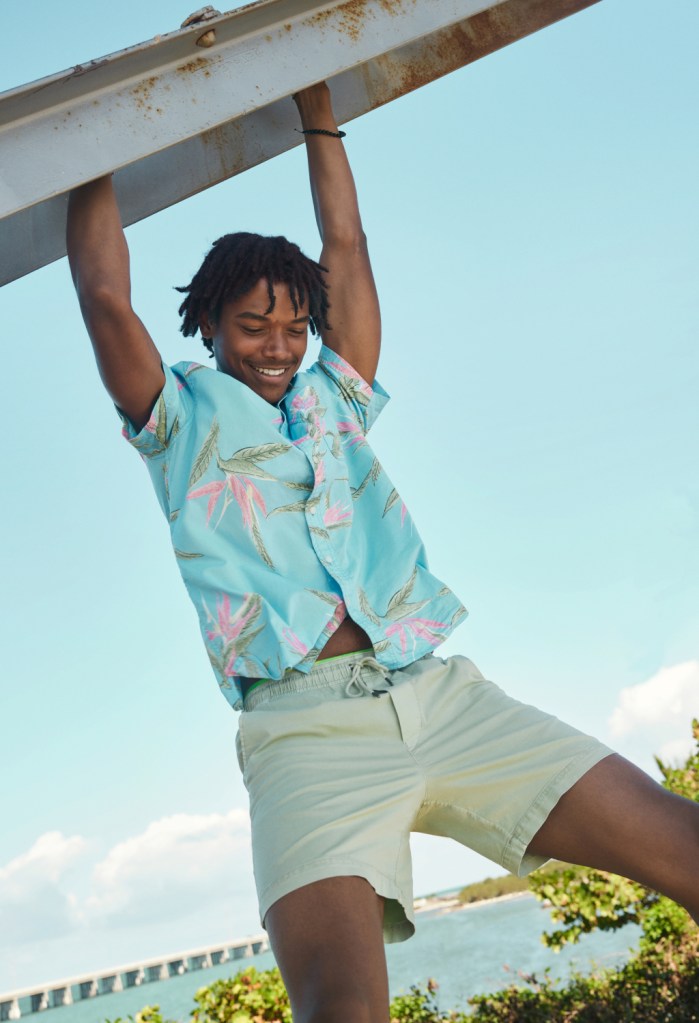 The sun. The sand. The surf… Did we mention the sun? This last summer outfit puts the "Resort" in Resort Shirt: perfect for your vacay packing list, and stylish from the beach to the boardwalk. 
Remember, you're dressing for toasty temps, so leave the extra layers at home! Just rock a Resort Shirt solo with your favorite pattern – you can't go wrong with tropical flowers or colorful stripes. Then, add a pair of comfortable 5.5" Trekker Shorts. The shorter length hits higher on the thigh for a flattering, summer-ready look. Get ready to catch some rays! 
Show us how you're wearing your Button-Up Resort Shirts by tagging @americaneagle #AEJeans for a chance to be featured on our Instagram, Twitter, ae.com, and more!