Find game-changing game day looks with Tailgate's new NFL gear and apparel collection. Designed with all the details you know and love like vintage-inspired logos, super-soft fabrics, and classic fits, Tailgate's NFL gear is all about showing off your team pride everywhere you go this season.
There's no wrong way to rep your team, but if you're stumped on what to wear for the next game, check out some style inspo below!
Steelers Apparel & Fall Layers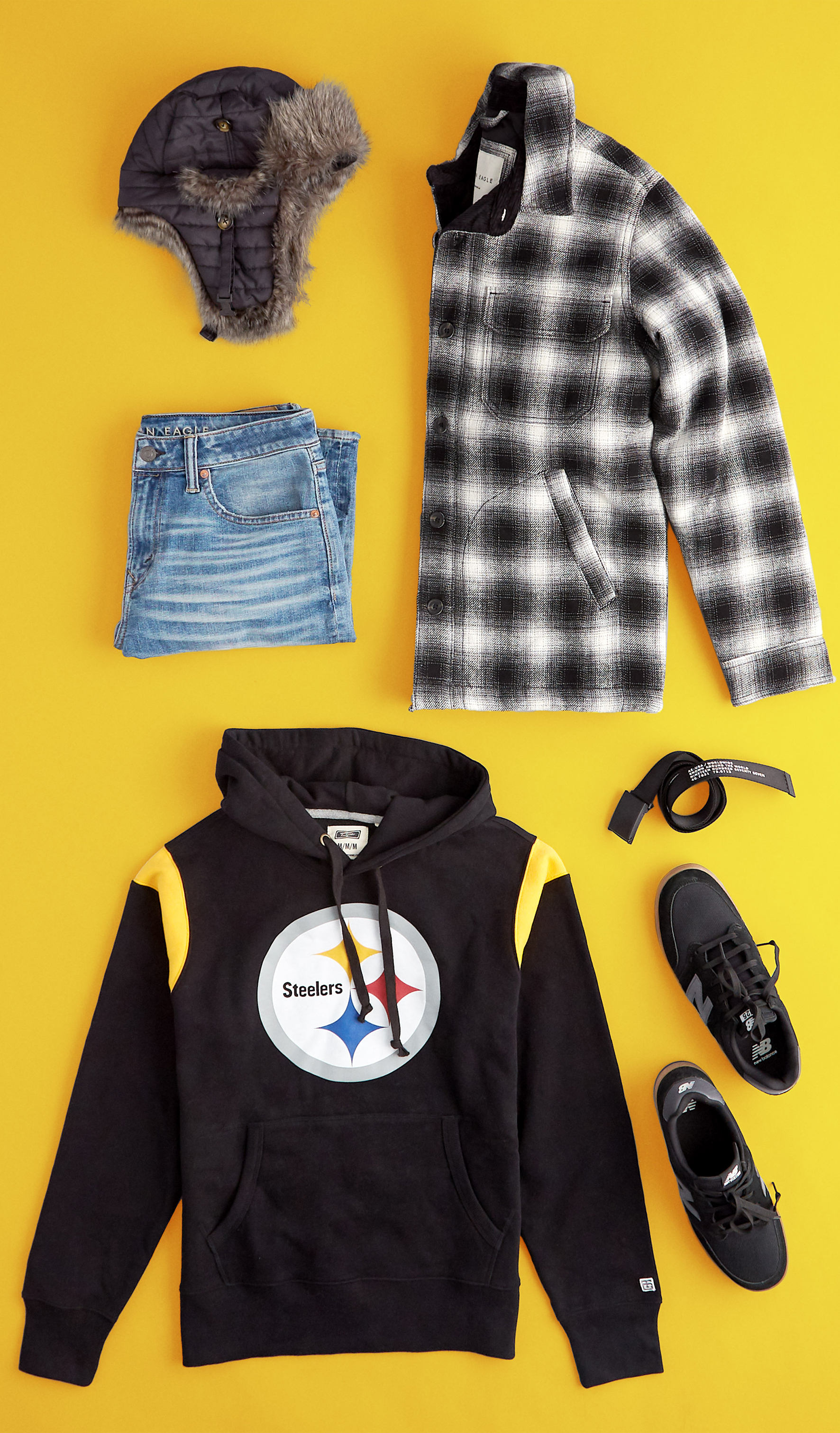 Prep for a Sunday down at Heinz Field in Steelers hoodies and sweatshirts. Wear Steelers tops with Athletic fit jeans and a flannel for a comfortable fit that's made to keep up with everything game day brings. Complete the look with a belt and an ear-warming trapper hat designed to handle the elements.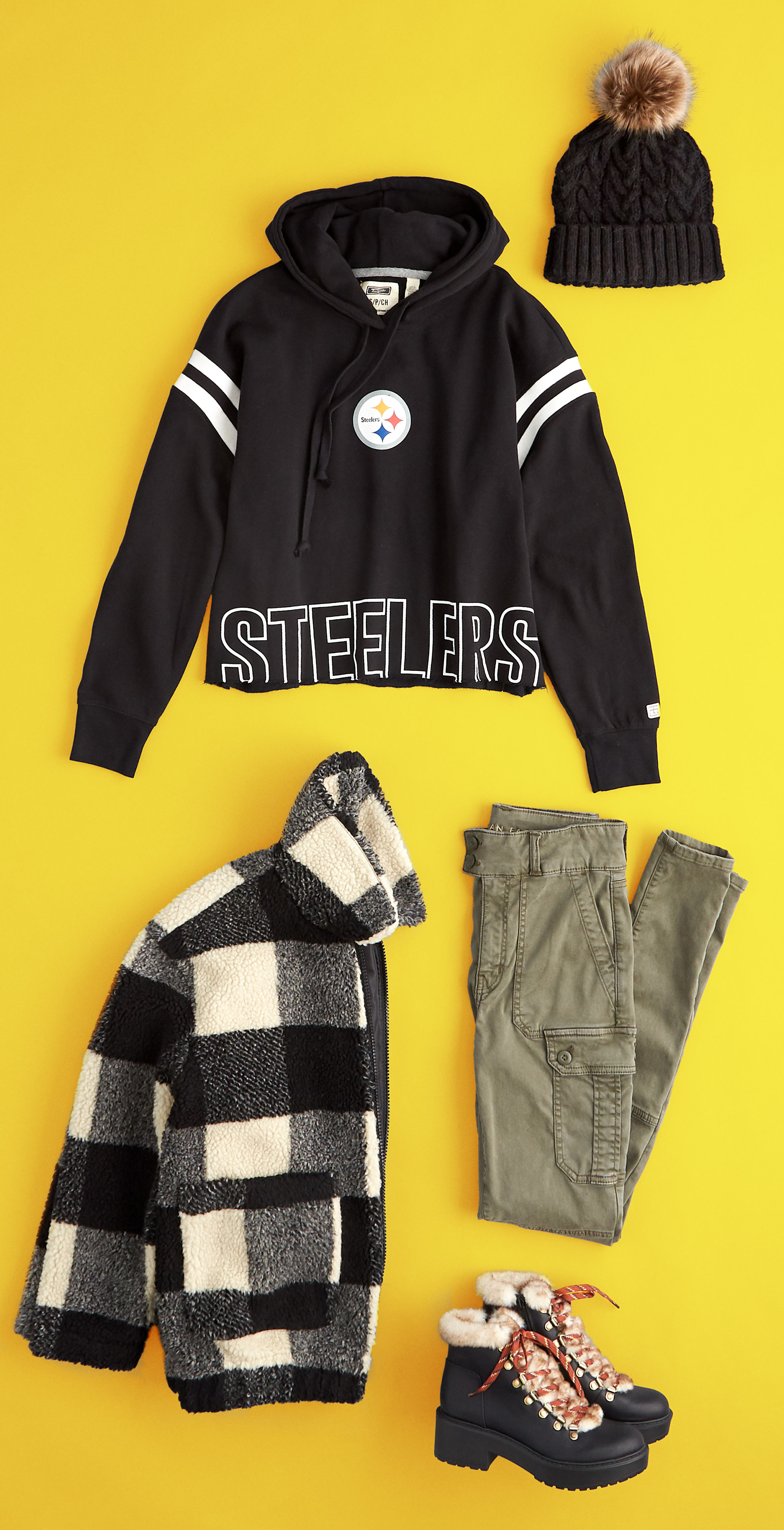 And girls, mix things up by wearing team gear with cargo pants and a fuzzy Sherpa jacket. Accessorize with a beanie and hiker boots and you've got a look that's all about team spirit and cozy comfort.
Patriots Gear & Your Favorite Jeans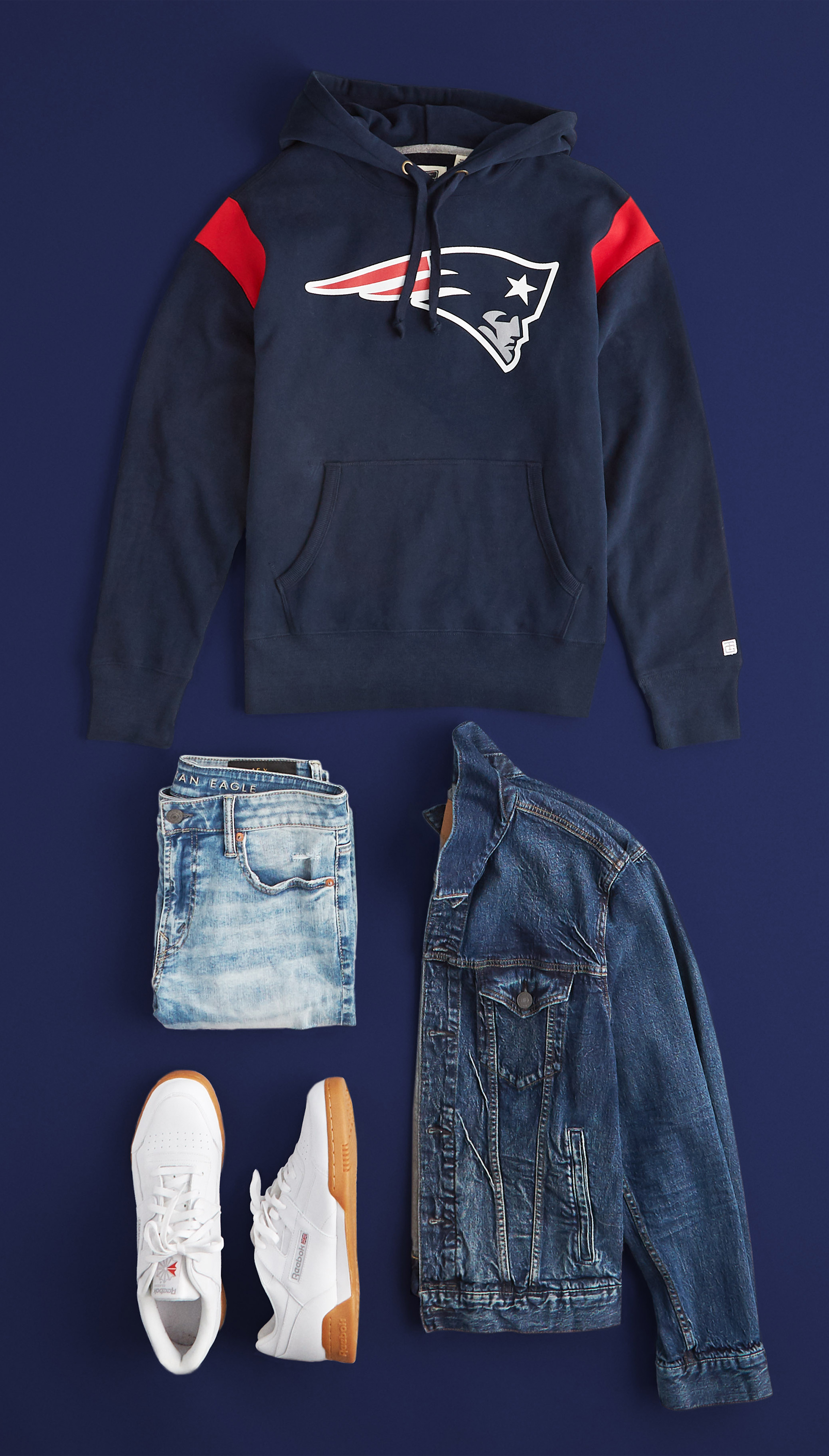 Cheer on your team in Patriots gear as they take down the opposition! Wear Pats gear with your favorite jeans to create an easy look that's just right for watching in-person or at home. For guys, this means wearing Stacked Skinny jeans and a denim jacket to double up on the laid-back denim vibes.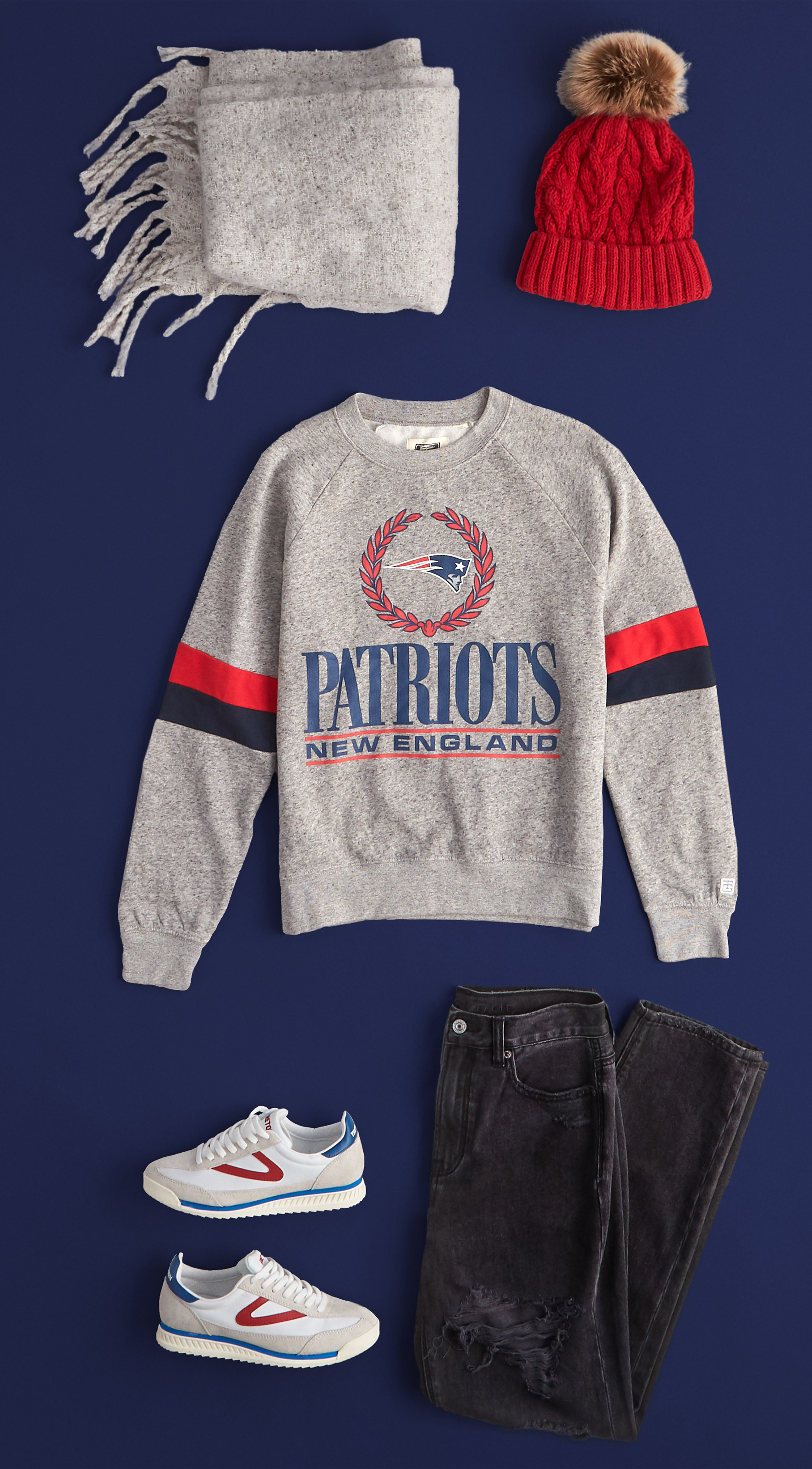 Another good move on game day? Mom jeans. Wear black wash Mom jeans and Patriots gear with white sneakers for a fresh athletic style, and don't forget to bundle up with cozy accessories like beanies and scarves.
Chiefs Shirts & Team Accessories
Support your team in bold Chiefs t-shirts, and create your ideal fan style by wearing them with high-waisted jeggings and a jacket in team colors. Round out the red and gold style with accessories like scrunchies and boots made to handle anything.
Texans Gear & AirFlex Jeans
Get ready for kick off in new Texans apparel! Iconic logos and classic team colors look good with skinny Airflex jeans and offer a pop of color when worn under a puffer coat that'll keep you warm no matter where the game is.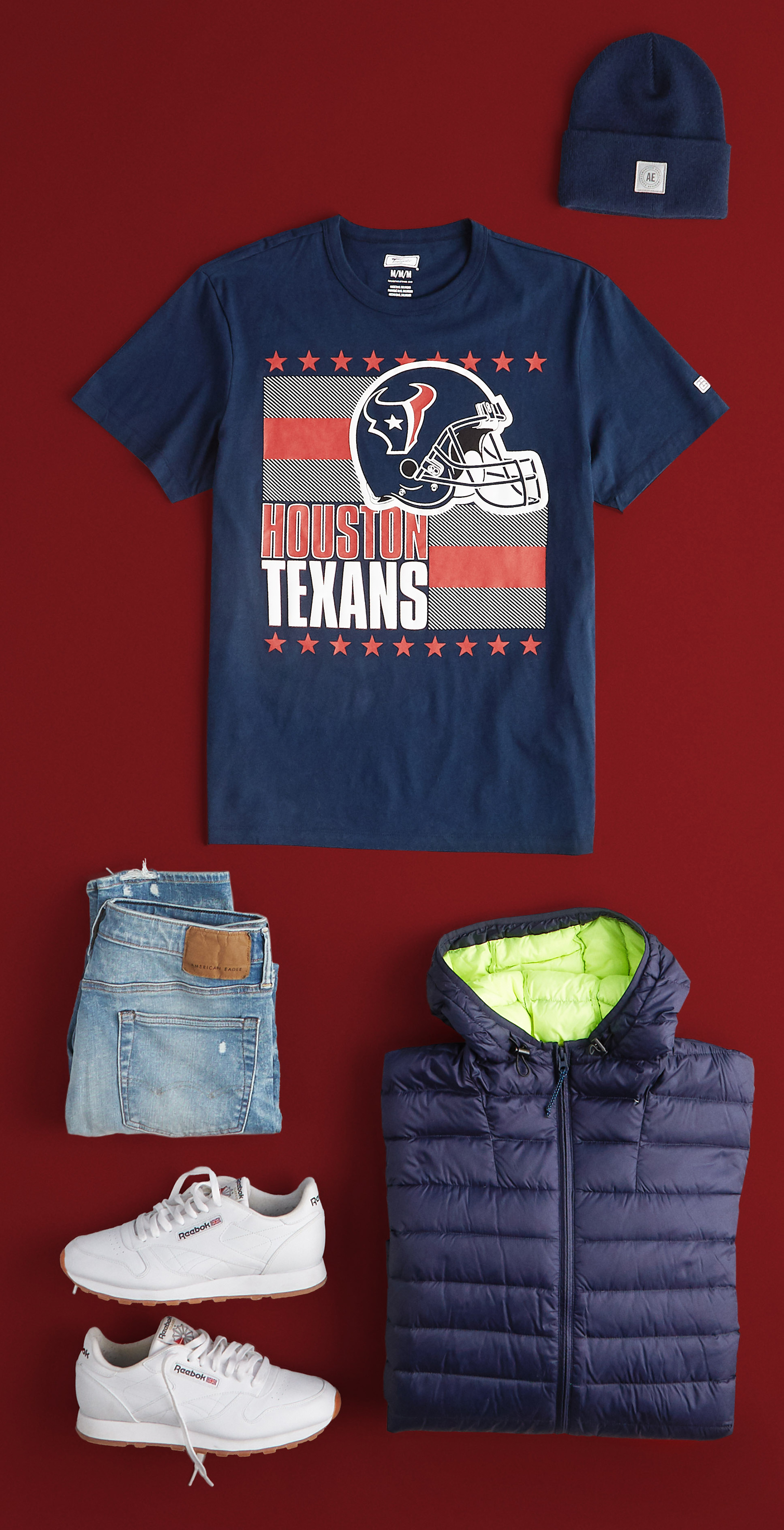 ---
Show us how you wear your new Tailgate NFL gear by tagging us on Instagram & Twitter with #AExME or #AEJeans @americaneagle and you could be featured on our site, social media, or blog!