We want you to feel amazing in American Eagle jeans every time you wear them – which is why we're working nonstop to create better fabrics, technologies, and fits.
We don't always talk about what goes on behind the seams (see what we did there?), but our latest jeans innovations are too cool NOT to share! Check out what our designers are excited about, then shop the new jeans collections and try 'em yourself.
Innovating for Comfort, Stretch & Consistency
Jeans have been around for, like, ever – but that doesn't mean we're always gonna make them the same way. By pushing forward and embracing new technologies, we make sure our jeans stay cutting-edge cool and comfy.
Improving Stretch Jeans
Stretch technology has come a long way. Most jeans used to have NO STRETCH at all, meaning they were made with 100% cotton denim. You can still get non-stretch jeans at AE, but with our amazing fabric technologies like Ne(X)t Level Flex, AirFlex, and Stretch, you can now get that the vintage-inspired denim look without giving up high-stretch comfort.
Making Better Ripped Jeans
There's nothing better than a great pair of distressed or ripped jeans. Authentic distressing used to be something designers could achieve ONLY with non-stretch cotton denim. But our designers have introduced incredible, flexible fabrics like Ne(X)t Level Flex and AirFlex, which give you the comfort you're looking for and hold up against the ripped, destroyed, and mended details you love.
We're also incorporating laser technology – yes, lasers! – into the production of our ripped jeans. This helps with consistency, making sure that every single pair of jeans has precisely cut holes, rips, and tears.
Creating More Sustainable Jeans
We're really into figuring out how technology can help us make more sustainable products, which is where lasers come back in. Yes with the lasers again! Believe it or not, using laser technology to fade and distress jeans helps us create more eco-friendly washes by helping us cut back on the water required to get your AE jeans' washes just right.
And, because we care about the planet and YOU, we're testing new chemicals and treatments that are better for the environment. We've shared some of our sustainability goals and initiatives on this blog before, and we'll continue to keep you posted on our progress. This is just the beginning.
Leading the Way with #Trending Styles
How boring would it be to wear the same jeans every day? Our designers feel the same way. Which is why they're always dreaming up new styles that are destined for your closet. Here are just a few of their recent creations we can't get enough of!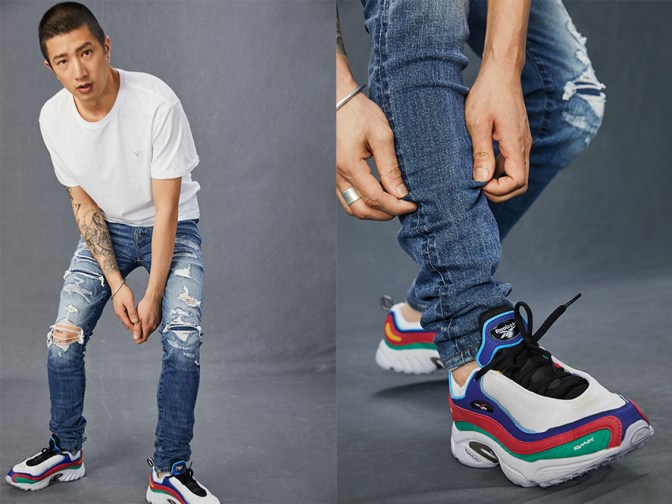 For Guys
If you're a guy who works out, you should give Athletic Fit jeans a try. They're designed with more room through the seat and thigh – perfect for guys with more muscular legs. Other new styles you should give a shot? The Dad jean for a laid-back, tapered fit, and the Stacked Skinny jean, made with a longer inseam for an on-trend stacked look.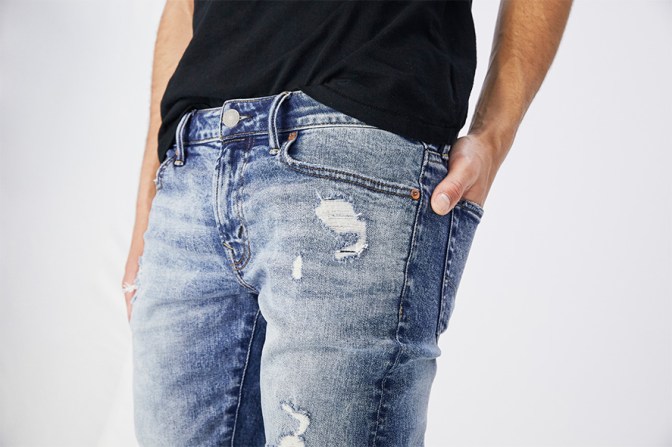 Our designers are also excited for you to try AE's latest destroyed jeans. With bold destruction like shredded hems, blown-out knees, contrast mending, big rips, and dramatic tears, AE's ripped jeans are getting better and better.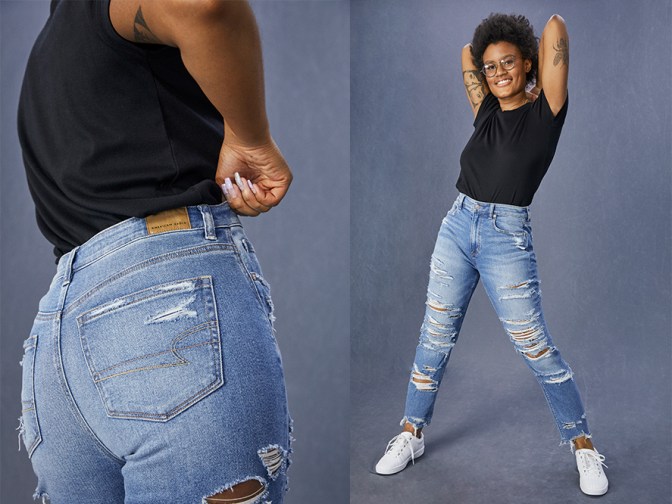 For Girls
Mom jeans and high-waisted jeans are modern classics. But our designers are all about the fresh details, so they've gone ahead and added pleats, paperbag waists, and ripped knees for a very "now" spin, plus designed them in every wash they could think of. They've also upped the game with unexpected colors and patterns, including plaids, stripes, and even animal print.
And how could we not mention the genius innovation that is Curvy jeans? Designed with more room through the hips and thighs, these jeans will help you say goodbye forever to waistband gapping and sizing up.
---
Show us how you wear your American Eagle jeans by tagging us on Instagram & Twitter with #AExME or #AEJeans @americaneagle and you could be featured on our site, social media or blog!