We recently introduced you to our new women's jean fit – the curvy jeans – and many of you have tried them on, took them home, reviewed them and loved them. A few of you did have some questions though, so we teamed up with our denim designers and customer service team to find answers to your most frequently asked questions about the new curvy fit. With more details about the design and fit of our curvy jeans, we hope this will give you all the info you need to figure out if they're right for you.
Want to know more first? Read more about Curvy jeans and check out the full curvy denim line. To curvy or not to curvy, that is the question.
You've got Qs, we've got As.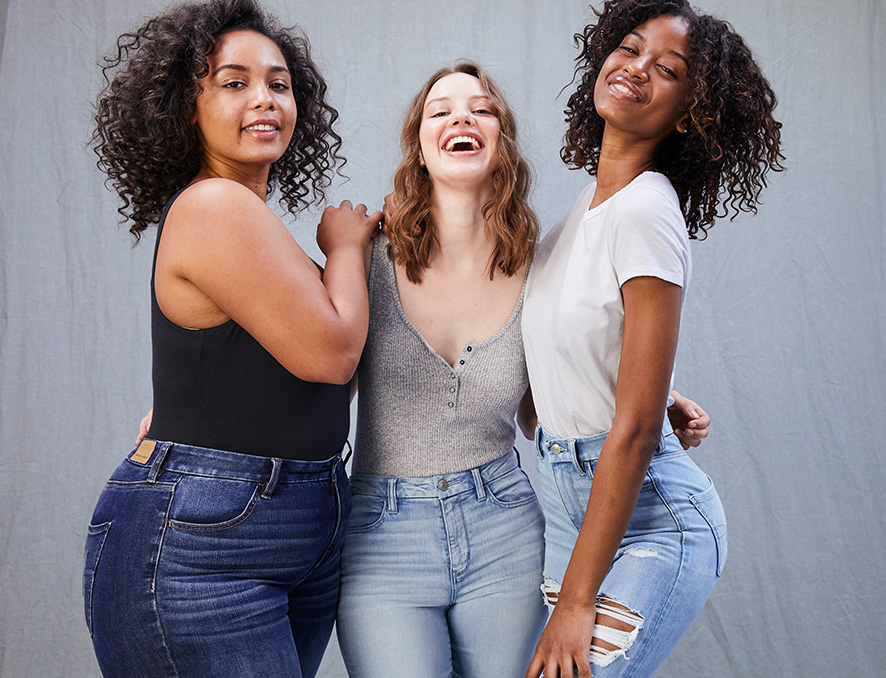 Q: How curvy is curvy? How do I know if I need curvy or regular jeans?
A: There are a couple different ways to tell if you could benefit from a curvy jean:
If you wear high-waisted jeans and have waistband gapping (when your jeans are too roomy at the waist and leave a gap)

If you have a 13" hip vs. waist difference (we'll get to more on that in a sec)

If your jeans are tight through the thigh and hip
Q: What are the measurement differences for curvy jeans?
A: Most women's jeans use a 10" hip vs. waist measurement, but curvy is designed with a 13" difference for more room at the thigh and hips. For example, if your hips measure 41" and your waist measures 28", you have a 13" hip vs. waist difference.
Q: Is length any different in curvy jeans verses regular jeans?
A: Nope! Our x-short through x-long inseam lengths are the same across all AE regular jeans & curvy jeans. So, if you typically order a 10 Short when buying AE jeans, you should order a 10 Short in the Curvy fit as well.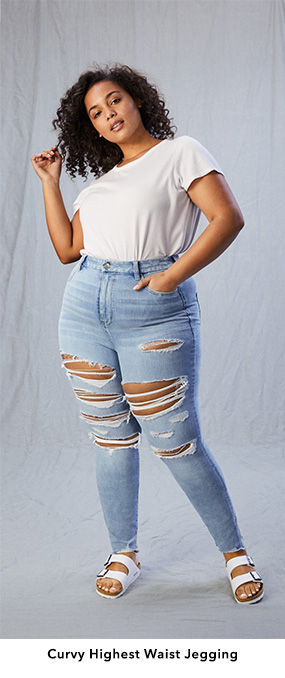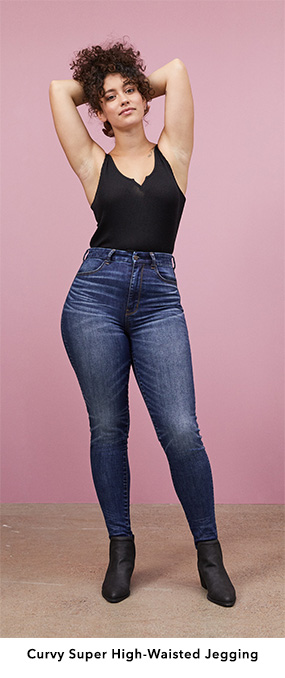 Q: Are the rises the same for curvy versus non-curvy jeans?
A: They're similar in the front but longer/higher in the back to give you more coverage & help prevent dipping in the back of the waistband.
Q: If I wear XX size in regular jeans right now, what size do I wear in curvy?
A: Try your regular AE jean size in curvy jeans. For example, if you wear a size 6 in AE jeans right now, you would order a 6 in curvy, too. A few things to note:
Due to the design, if you're in-between sizes you might want to size down.

If you're not sure what size is right for you, order 2 pairs to try and keep the one that fits best.

With free shipping and free returns on curvy, you don't have anything to worry about.
Q: Are the fabrics different in curvy?
A: No! You can find curvy jeans in all your favorite stretch fabrics like Super Stretch, Ne(x)t Level Stretch, Dream, Lu(x)e, and Cozy.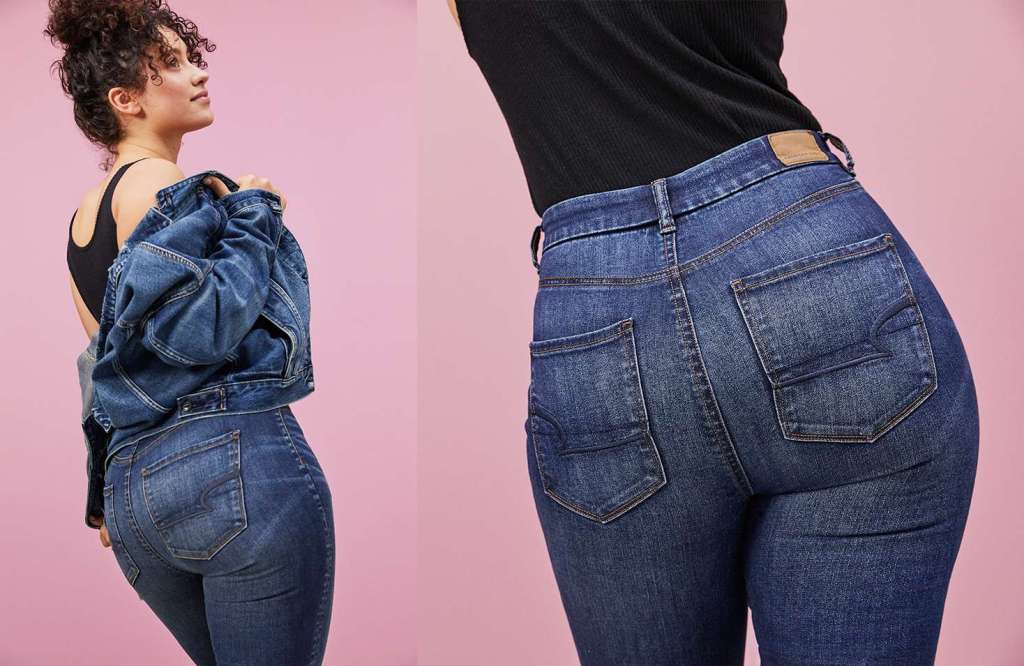 Q: Are curvy jeans available in store?
A: Yes! You can shop curvy jeans in store and online.
Q: Are you making curvy in other fits than the jegging? What about shorts or skirts?
A: Yes! Find curvy versions of your favorite fits like Mom jeans, flare jeans, leggings, cropped jeggings, skinny kick jeans, and more. We also have curvy shorts and skirts, too!
Q: Is there a curvy jean for guys?
A: While we don't have a curvy-specific men's jean, we do have our Athletic fit jean designed for the guy who needs a little extra room through the thigh. Athletic fit jeans come in slim, skinny, and straight fits.

We love that you love curvy jeans, and we can't wait to roll out more fits and styles soon.
Stay in the loop by signing up for emails and checking back frequently. Already own a pair of the curvy jeans and want to show them off? Tag us on Instagram & Twitter with #AEJeans @americaneagle and you could be featured on our site, social media or blog!