The dust has finally settled on another incredible holiday season and before we can move into spring and summer (the best time of the year, obvi), we have to make it through winter first. At AE we know the secret to getting through winter 2019 in one piece is to layer up, stay cozy and stay comfy in your newest AE sweaters, outerwear and jeans! Whether you got a super cute sweater from your aunt, some new ripped jeans from your parents or a sweet pair of winter boots from your best friend, you scored this season and we couldn't be happier with how all your #AExME winter outfits turned out! So check out the cute winter looks below to get some style inspiration that'll hold you over until spring.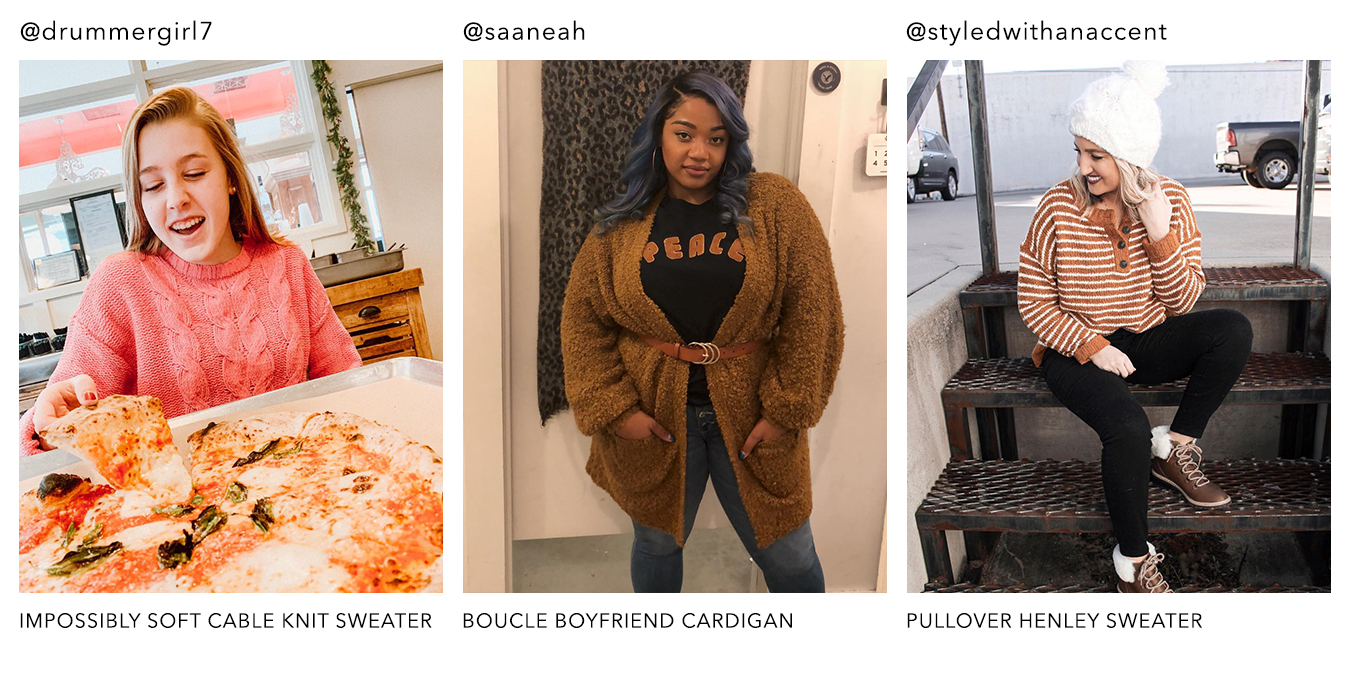 We have to admit it. You guys have style! Even when it comes to bundling up and staying out of the elements. Start your cold-weather style with our warmest, comfiest sweaters & cardigans for a cool look you'll love no matter how much the temperature drops. We make women's sweaters with the softest fabrics, and in super cute styles with color block designs, stripes & more so you can change up your winter vibe easily and effortlessly. Henley pullover sweaters keep your look buttoned up, while crew neck sweaters are a tried and true winter classic. Cardigans are yet another seriously soft top to add to your closet this winter. Layer it up with your fave AE graphic hoodie, a belt and you're set.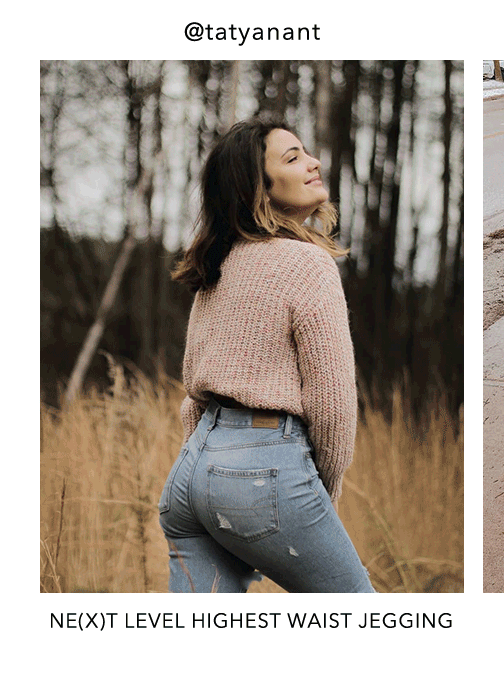 Our favorite style to wear with AE sweaters & cardigans is, of course, our jeans. Light washes serve up an iconic throwback vibe when worn in high-waisted styles like Mom Jeans or jeggings, and medium and dark wash jeans keep the winter vibes coming on strong to complete your look. Design elements like ripped knees and frayed hems keep your winter outfits cooler than cool, and let you show off your style even during the colder months of the year. And don't forget, you can customize your jeans online for a look that's even more "you" than ever before. Update the back patch (also known as the jacron) for a custom look and even cooler feel with your AE jeans.
Next up to battle the cold of winter comes your outerwear. While your jackets & coats are meant to combat the elements, they're also pretty good at showcasing your style, too. AE denim and trucker jackets offer up a classic look with killer updates like Sherpa construction, destroyed details and chest & waist pockets to keep things easy when it's time to layer up. Or opt for parkas for a longer length and more coverage. AE parkas are made with super soft fabric blends and cute little details like fur hoods and button hip pockets for a look that's cute and cozy every time you wear it. Puffer jackets are another way to equip yourself against the harsh cold of winter. Made with water-resistant fabric and filled for maximum warmth, these coats don't mess around when it comes to keeping you warm. Layer your coat or jacket with comfy sweaters to create a cute winter outfit you'll love all season long.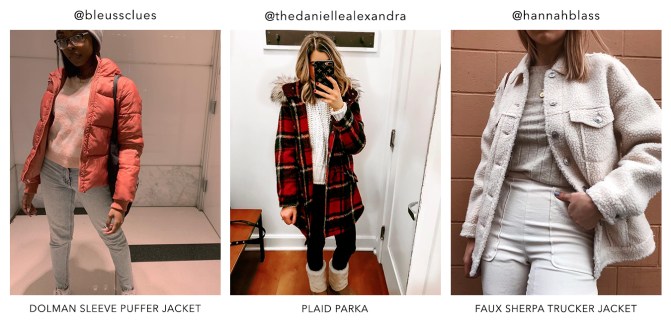 Top off your winter style with the best cold-weather accessories around: winter hats, boots & scarves! Accessories are the easiest part of creatingyour next favorite outfit. They're the finishing touch before you head out the door and can round out your style in a breeze. Complete your winter look with cute belts, hats, scarves and game-changing footwear, too. Our hats and scarves are made with soft fabric blends to complete your super cute, super cozy winter style, and our boots are made with all the elements you need to keep out the cold and hunker down until spring in style.
Want to show off your style on our site, social media or blog? Share how you rock your cute winter outfits on Instagram & Twitter with #AExME @americaneagle and you could be featured!
WHAT IS AExME? | ADD YOUR PHOTO