Every piece of clothing you wear has a story. It holds memories of that awesome concert you went to or that road trip you took. It reminds you of where you've been, and all the cool things you've done.
Your favorite piece of clothing not only instills a sense of confidence and comfort, it also projects your individuality. When it comes to your style, you should never have to settle, which is why we're going to show you how to distress your tees and jeans so you can make them as unique as you are.
Click the images below for tutorials on how to create a distressed tee, cutout tee, or distressed jeans.
 HOW TO MAKE A DISTRESSED T-SHIRT
Distressed tees have that worn-in, laid-back feel. They're casual, yet edgy. For an understated look create small holes, or go bold with large gashes and bleach. You can get both looks with items you have lying around the house —  a razor, scissors, sandpaper, a cheese grater, cardboard, and bleach.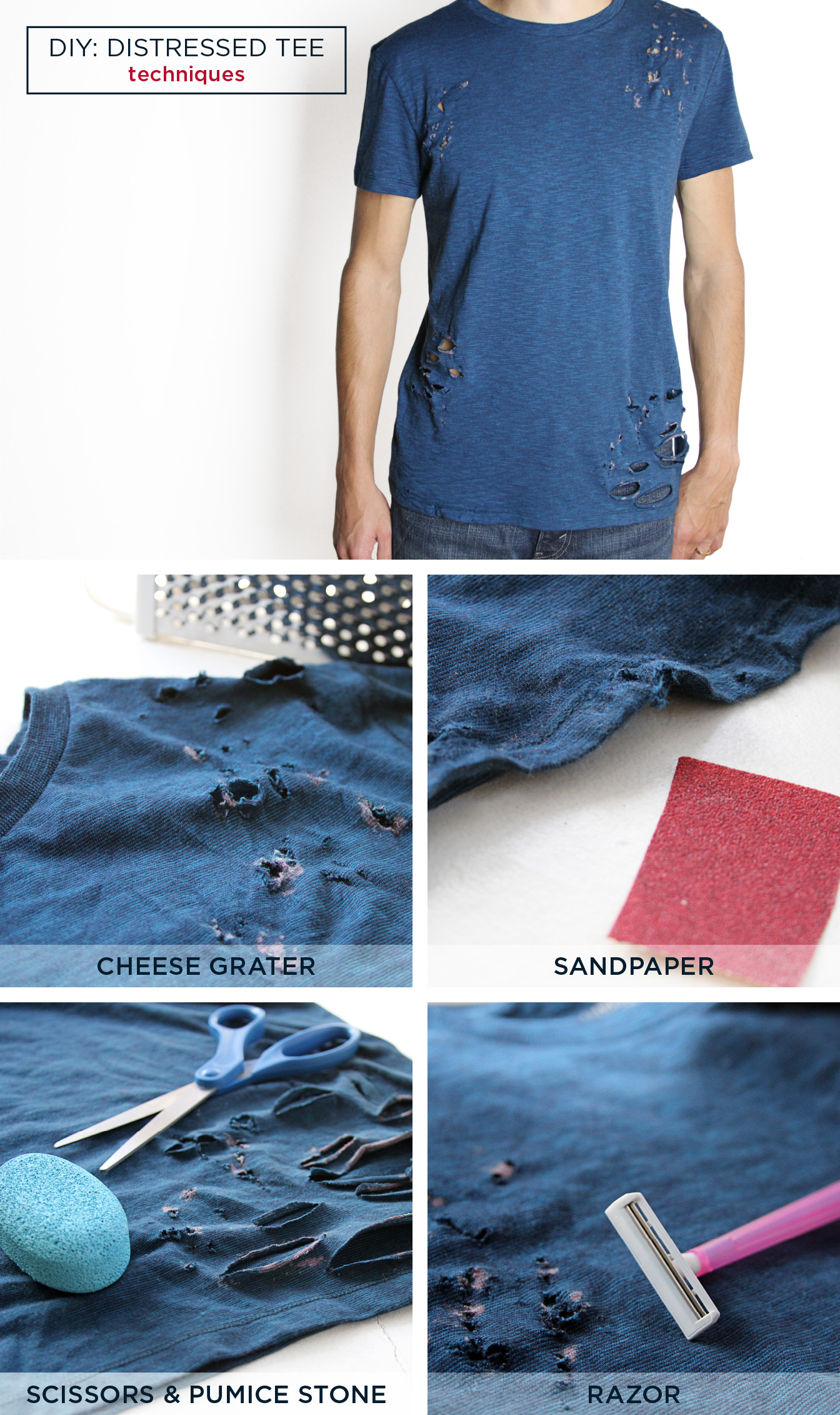 Each of the methods are simple. Just make sure to put a piece of cardboard inside the t-shirt of your choice before you start distressing to prevent you from cutting through both sides of the tee!
CHEESE GRATER
The cheese grater is harder to control than other tools, but produces holes with interesting frayed edges. To get this look, hold the fabric taut against the cardboard and grate in all directions. This technique is best if you want a random cluster of holes somewhere on your shirt.
SANDPAPER
The sandpaper is great for the seams and collar. Just rub coarse sandpaper (we used 90 grit) back and forth in all directions where you want your shirt to show a little extra wear.
SCISSORS + PUMICE STONE (OPTIONAL)
Scissors are best for creating large holes. Just snip horizontal lines of varying sizes. For an extra worn look, rub a pumice stone or sandpaper along these cuts.
BLEACH
If you want to make the distressed areas of your tee stand out, use bleach (we used 2 parts water, 1 part bleach) to highlight the holes and cuts in the shirt. You can also use it all over the shirt for a grunge look.
RAZOR
The razor is the tool that gives the most variation, and it is easy to control. The razor you use should be new and sharp. You can drag the razor horizontally to create long slices in the tee similar to the scissors, pull it straight down (holding the fabric taut) for a variety of small holes, or place the fabric on a solid edge (like the corner of a book) for a line of straight holes.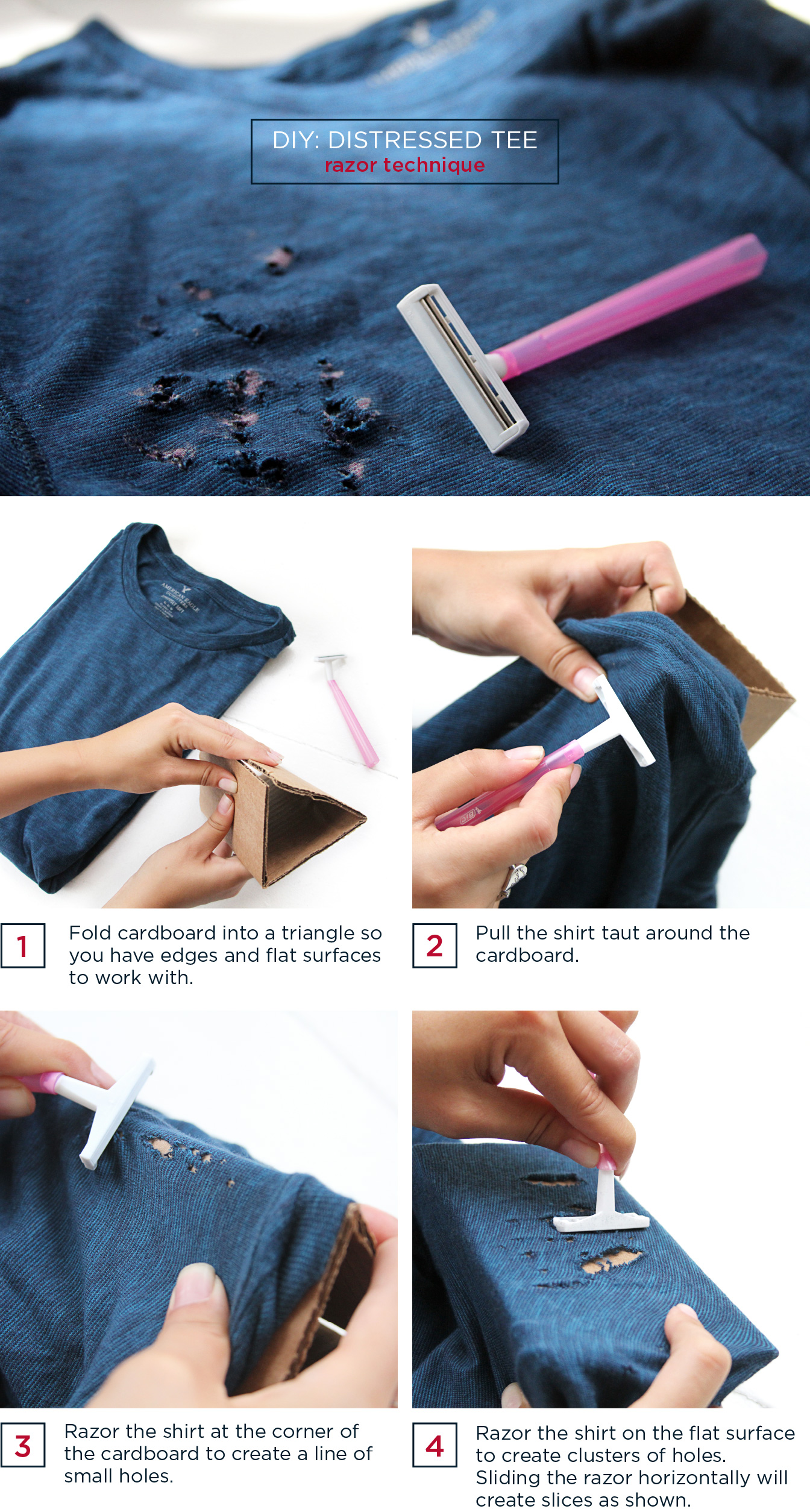 HOW TO CUT A T-SHIRT
It's easy to get bored of a plain tee. If you want to spice it up, cutouts will do the trick. No sewing needed! We've created 7 templates to inspire you to revamp your t-shirts. Just print out the one you like, cut out the template, chalk it on your shirt, and cut out the design.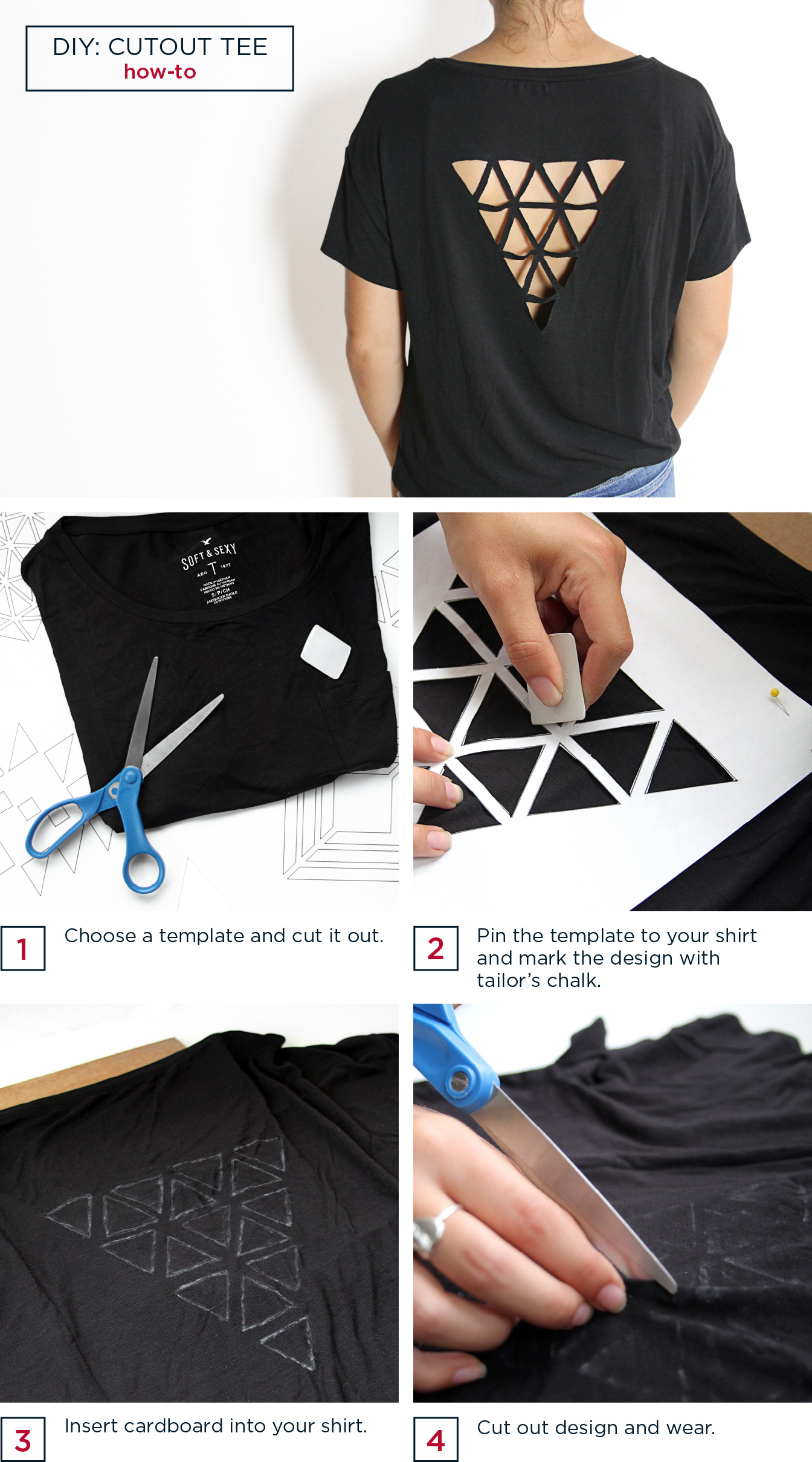 HOW TO DISTRESS JEANS
There are countless ways to distress jeans­—large holes, small holes, frayed seams, the list goes on. Whatever look you want to achieve, there are five basic steps you should follow when distressing your jeans.
Choose a pair of jeans. Denim with less stretch works best if you'd like to create traditional frayed at the knees look, as threads without elastic are less likely to snap.
Try on the jeans and mark where you want to distress them with chalk.
Determine which distressing techniques (razor, cheese grater, sandpaper, tweezers) you'd like to use.
Start distressing. Place cardboard in the pant legs to avoid distressing both sides of the jeans.
Wash on cold and wear.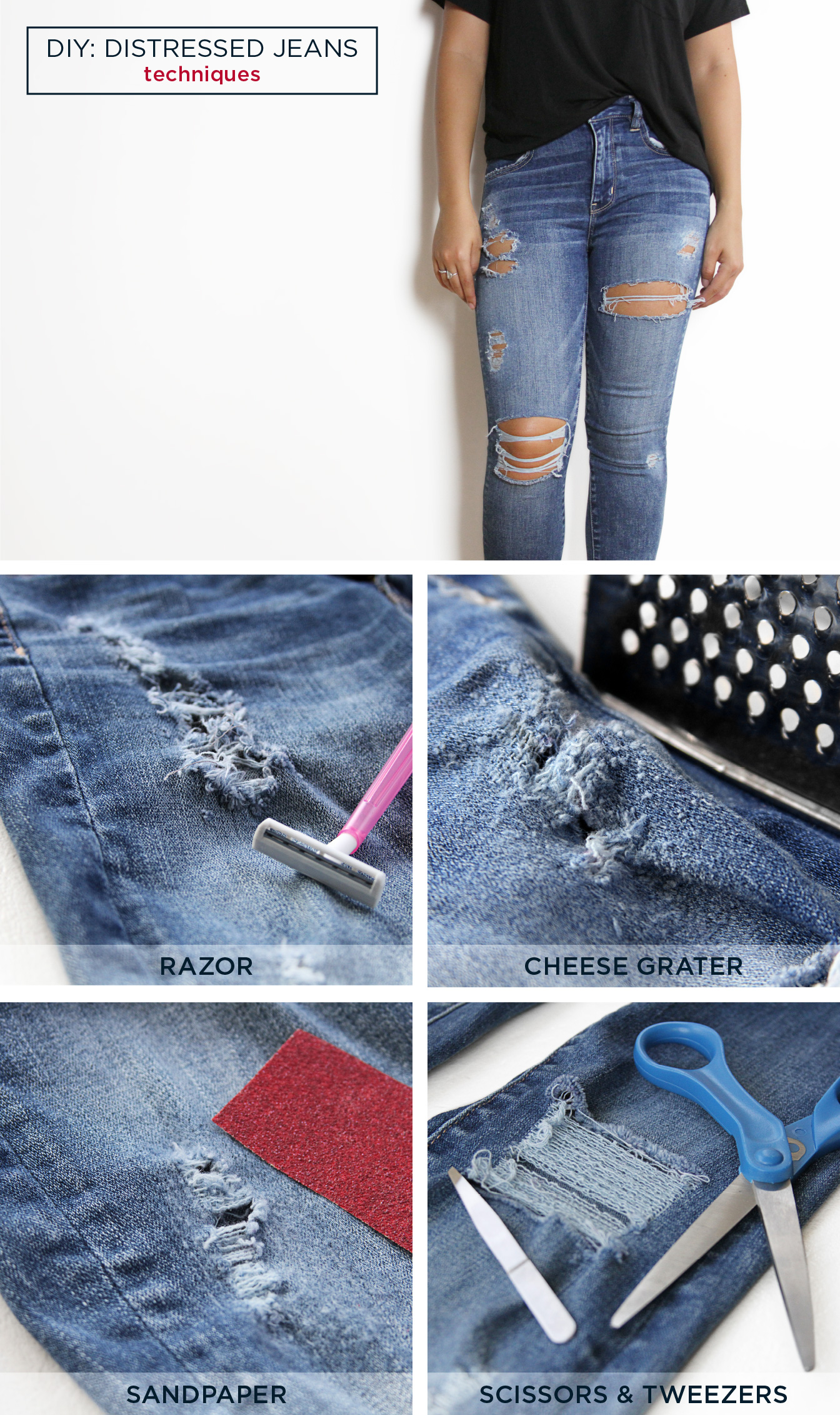 Like with creating a distressed t-shirt, you should have all the tools you need at home!
RAZOR
The razor is best for cutting larger holes out of the jeans and fraying the denim at the pockets and seams. You can create a hole by placing the jeans against a hard surface and cutting away material with the razor, giving the edges of the hole a naturally frayed look. To distress at the pockets and seams, run the razor along each surface.
CHEESE GRATER
The cheese grater is most difficult to work with, but provides interesting texture. For best results, use the side of the cheese grater with small holes. There are two ways to use a cheese grater. The first is to grate the material in all directions until a small hole begins to form. Continue grating until the hole is a desired size. This will also thin the fabric around the hole, giving it a unique, distressed look. The second way is to make small, parallel cuts with your scissors and grate over this area. This will create a cleaner look, similar to sandpaper.
SANDPAPER
The sandpaper is simple to use and makes it easy to target a specific area on the jeans. Just wrap it around your finger and rub in all directions until a hole starts to form. We used coarse sandpaper (90 grit).
SCISSORS AND TWEEZERS
This is the most common method to distress jeans, especially if you want to fray them at the knees. See detailed instructions below.